Did Angela Merkel Save Auto Manufacturing in Europe?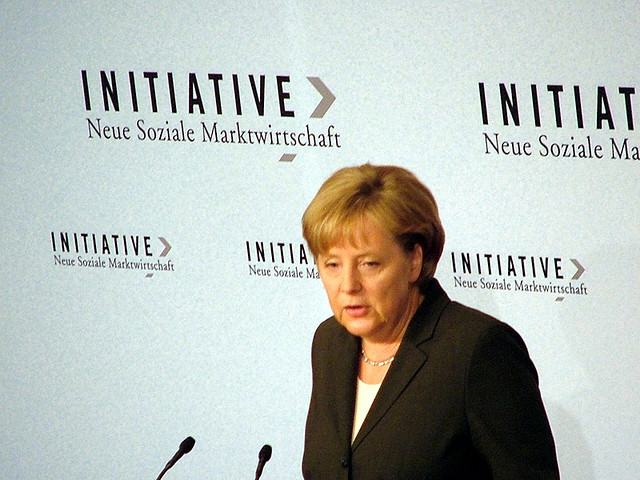 In the face of declining auto sales across Europe, Angela Merkel has stood up for most auto manufacturers and blocked a bill aimed at capping carbon emissions by 2020 to 95 grams per kilometer. Germany was not alone, as a coalition of European countries felt that a proposal of this magnitude in the face of economic headwinds was simply too detrimental to an already struggling EU economy.
"This is also about employment," Merkel said today, "That's why we need time to review and evaluate and decide what we will do. That's why the vote didn't happen."
German auto-industry lobby VDA lauded Merkel's decision, saying, "With such an important policy decision, it's important that prudence trumps speed. Therefore, it's correct that sufficient time to review compromise suggestions are allowed."
The EU efforts would target certain manufacturers with certain goals, including General Motors Co (NYSE:GM). The American auto giant has recently stepped up its Chevrolet brand in Europe in an attempt to reconcile its failure to gain the notoriety of the Adam Opel brand.
Chief executive Dan Akerson commented on the move, saying, "We are taking a hard look at Chevrolet in Europe and we need a fresh perspective," and adding that, "We are going to assess Chevrolet, not only how it is priced but what content is offered and how it is positioned."
Ford (NYSE:F), for its part, was not pleased with the failure of the regulation to pass through the European parliament. The company has developed the 1.0-liter EcoBoost Motor and other technologies which could have given it a differential advantage in the marketplace should the measure have been passed.
In a statement, Ford acknowledged that they were "disappointed," and that, "We will now have to re-group within the industry to determine the next steps." Merkel further dismissed the European Commission, which was additionally disappointed at the delay in the regulations, pointed to the economic costs.
"At a time when we're spending days sitting here talking about employment, we have to take care that, notwithstanding the need to make progress on environmental protection, we don't weaken our own industrial base," she said.
Auto sales have contributed to the slowdown in European growth, as the economically important industry saw a loss of sales in May 5.9 percent from a year ago. Specifically, GM lost a substantial 11.3 percent of sales, while archrival Ford picked up momentum, gaining 0.5 percent more market share over the same period of time. The U.K. was the only European Union member country to see a rise in auto sales, up 11 percent, while every other EU economy experienced a decline in sales.
Don't Miss: Enjoy the Housing Boom While it Lasts.