Did Any Retailers Win Big This Holiday Season?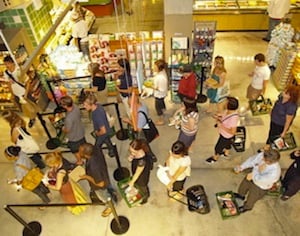 While the resolution of the fiscal cliff left investors with a small amount of confidence in the U.S. economy, the Bloomberg Consumer Comfort Index dropped this week in preparation for the payroll tax increase. The index, a measure of Americans' perceptions on the state of the economy and personal finances, fell to -34.4 from the previous week's -31.8. This drop places the index 18.5 points below its 27-year average and far beneath the -20 reading hit at the beginning of 2008.
Consumers' lowered sentiment is reflected in the holiday results of many retailers.
Urban Outfitters (NASDAQ:URBN): Current Price $42.42
On Thursday morning, the clothing retailer announced that the 2012 holiday shopping season was record breaking, with sales from its Anthropologie, BHLDN, Free People, Terrain and Urban Outfitters brands reaching $666 million for November and December. This represented an increase of 15 percent over last year's results.
Urban's holiday results contributed to a 12 percent increase in net sales for the 11-month period ended December 31, 2012, with total sales hitting $2.6 billion. Additionally, the company reported that its gross margins were at an "all time high."
Chief Executive Officer Richard A. Hayn said in a press release that the higher sales were the result of its sales associates' improved execution, the development of better products, and more disciplined inventory management.

Start 2013 better than ever by saving time and making money with your Limited Time Offer for our highly-acclaimed Stock Picker Newsletter. Get our fresh Feature Stock Pick now!
Aeropostale (NYSE:ARO): Current Price $12.85
While Urban Outfitters found success last year, the holiday sales reports from Aeropostale and Tiffany have give retail analysts something to worry about: consumer spending weakness.
For the five-week holiday season, sales at Aeropostale fell 6 percent to $645 million, while sales at comparable stores dropped 8 percent. "Following a strong Black Friday weekend, sales and traffic trends deteriorated significantly in December," stated Chief Executive Officer Thomas P. Johnson. "From a merchandise perspective our core basics businesses, particularly graphics and fleece, remained challenged."
Based on these lower-than-expected sales, the company dropped its guidance for the quarter's net earnings on Thursday from $0.36 to $0.41 per diluted share to approximately $0.20 to $0.24 per diluted share.

Tiffany & Co. (NYSE:TIF): Current Price $60.58
While the jewelry retailer reported that its holiday sales rose 4 percent to $992 million, the results were at the low-end of its expectations for the season and prompted the company to predict that its 2012 earnings would only meet the low-end of its guidance for the year. This pronouncement sent shares of Tiffany down close to 4 percent at midday on Thursday.
This year's results are following a trend begun in the 2011 holiday season. As The Wall Street Journal reported, the continuing global economic weakness has hurt the company's sales of diamond rings and high-end jewelry, causing its margins to narrow. But despite the economic uncertainty plaguing its luxury market, Chief Executive Michael J. Kowalski said that the company will add new locations and products this year.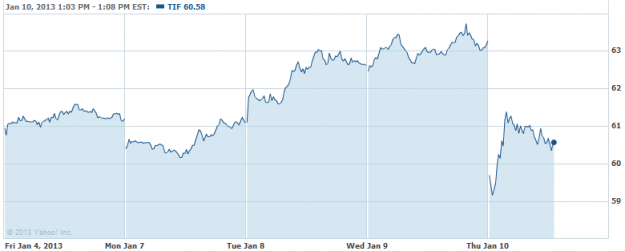 Investing Insights: Does Apollo Group's Big Drop Present a Buying Opportunity?