Did Caterpillar Just Dig a Bigger Earnings Hole?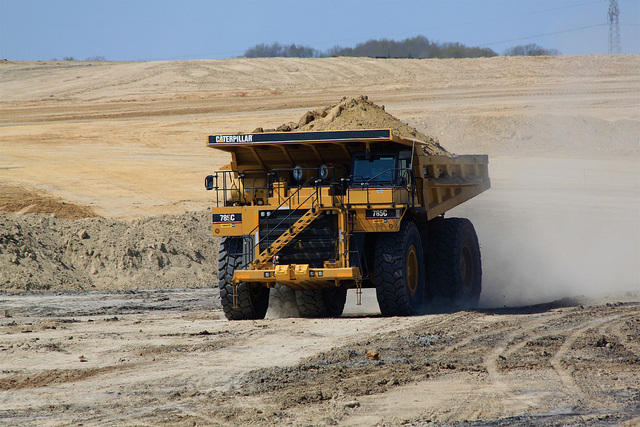 The question for Caterpillar (NYSE:CAT) investors is whether the machinery manufacturing company is closer to the beginning or the end of its downturn.
In the past several quarters, a pattern has begun to emerge, bulldozed into existence by the ongoing weak global economy that has quelled demand from the heavy equipment manufacturer's mining customers; in each of the past four quarters, it has badly missed consensus forecasts for earnings, and been forced to cut full-year forecasts. For comparison, prior to those consecutive earnings misses, Caterpillar had only missed expectations three times in a period of 20 quarters.
Ahead of the earnings release Wall Street seemed to expect that the trend would continue, that sales would remain soft and Caterpillar's tough times would continue. Caterpillar shares having lagged behind the S&P 500 by 24 percentage points this year, even though the stock has managed to advance $5.31, or 6.33 percent, this year through Tuesday. After third-quarter earnings were released Wednesday morning, which indicated that the company was not at the end of its downturn, investors bid shares of Caterpillar's stock down as much as 5.57 percent, $4.97, to $84.20, on the earnings and revenue miss. It was a "painful year," as Caterpillar Chairman and Chief Executive Officer Doug Oberhelman noted in the earnings press release, and shareholders agreed.
Analysts had expected Caterpillar to report earnings of $1.68 per share for the quarter, down by one-third from the year-ago quarter. Before company officials slashed earnings and sales guidance in June, the forecast was $1.90 per share and it was $2.20 in March. In the spring of 2012, just when sales to China began to slow, the guidance for earnings was $2.89 per share.
But retail-machinery sales to China are still decreasing, and in the month of September alone, sales in the Asia-Pacific region had declined by 24 percent from a year ago, on a three-month rolling basis. Similarly, sales in North America began falling at the same time, in March of 2012, but comparatively, the region's sales have begun to turnaround. Expectations for revenue stood at $14.29 billion, even though analysts did not expect sales to rebound significantly.
Sales certainly did not rebound; the company missed on both top and bottom line estimates, forcing Caterpillar to lower its guidance for 2013 earnings to $5.50 per share on revenue of about $55 billion, down from earnings of $6.50 per share on a revenue of $56 billion to $58 billion.
The manufacturer reported that third-quarter earnings dropped 44 percent in the quarter that ended September 30, falling from $1.7 billion, or $2.45 per share, in the year-ago quarter to $946 million, or $1.45 per share. Revenue also declined 18 percent to $13.42 billion. Caterpillar attributed the disappointing results to a mixture of declining demand for new equipment and depressed mining at a global scale. Mining is the company's most profitable product category, with the strongest margins.
"This year has proven to be difficult, with expected sales and revenues nearly $11 billion lower than last year. That is a 17 percent decline from 2012, with about 75 percent of the drop from Resource Industries, which is principally mining. We expect Resource Industries to be down close to 40 percent for the full year and Power Systems' and Construction Industries' sales to each be down about 5 percent," said Caterpillar Chairman and Chief Executive Officer Doug Oberhelman in the earnings press release. "Unfortunately, order rates have not picked up much despite continuing strong commodity production. That has caused us to ratchet down our sales and revenues outlook as we have moved through 2013," he added.
As early as January, analysts were questioning whether Caterpillar was too exposed to the resource industry, especially as many of its important mining customers were forced to slow the development of projects, drop others entirely, and postpone or cancel new equipment orders as investors expressed displeasure over inflated budgets and falling metal prices. Those concerns began to circulate even before the company announced that it would write off three-quarters of the $654 million it paid in 2012 for ERA Mining, a Chinese mining equipment company. The write off came after Caterpillar found "deliberate, multi-year, coordinated accounting misconduct" at a subsidiary of that Chinese firm. While the equipment manufacturer had focused on mining merger and acquisitions in recent years to fatten its margins and strengthen its mining business, to many analysts that event symbolized a rash decision to bet on a notoriously cyclical business.
"Historically, mining cycles have been very long cycles—about seven-year cycles, not one-year cycles," the JPMorgan analyst told CNBC in mid-April after the company missed first-quarter expectations and slashed its guidance. "That's what long-term investors are going to have to wrestle with today," he added, an assessment that still holds true for investors in mid-October.
To compensate for the lost revenue, Caterpillar has laid off more than 13,000 workers, furloughed a few thousand others, and temporarily shuttered several plants. That strategy saved the company about $700 million in costs. Capital expenditures have also been cut by $400 million. However, as JPMorgan analyst Ann Duignan told Reuters, the cuts the company to its 2013 earnings forecast suggests the the layoffs, furloughs, and other cost-reducing efforts had failed; "costs are not coming out as quickly as expected," she said.
Still, in an interview with CNBC, Oberhelman said he was confident that mining customers would began to place orders once again, but admitted that he did not know when the orders would start flowing in. "Long term, the mining customers I've talked to lately are very bullish – as am I, and I have to be based on what they tell me," Oberhelman said."But I don't know if long term is next year, five years or 10 years. But it will come back. We've seen it every single time."
Follow Meghan on Twitter @MFoley_WSCS
Investing Insights: Does ARM Holdings Support Rising Prices?