Did GM Just Price the ELR Out of Feasibility?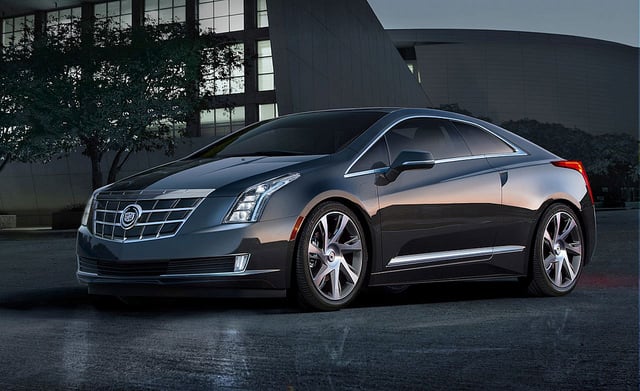 The Chevrolet (NYSE:GM) Volt certainly made impressions with consumers when it was released in 2011, but not always favorable ones. While its plug-in powertrain seems to be met with generally favorable sentiments, the car's price was the biggest drawback for the vehicle, as there were — and are — few people who could justify spending nearly $40,000 on a compact car, even if the mileage it offers is pretty impressive.
However, with all the research and development, money, and other resources that it took General Motors to develop to car, it didn't make sense to keep the Volt and its guts relegated to the Chevy bowtie. It was only a matter of time before a Volt-based model under a different name came along, and that time is nearing, as the Cadillac ELR will soon be unleashed in Caddy dealers nationwide.
As for those who were shocked by the Volt's high base price, the Cadillac doesn't disappoint — the ELR, roughly the same size and boasting the same internals as the Volt will start at a cost of $75,000, immensely more than was predicted by Autoblog a few years ago. This price is before any green car government incentives, which can go as high as $7,500 for just the federal rebate. States offer their own incentives as well.
For the Cadillac diehards who have been waiting patiently for a more fuel efficient means to getting the badge, it might be worth the cost. For the more undiscerning customer, though, it poses a few problems.
A chief issue at hand is its size. For $75,000, one could pick up an Audi A8, or a BMW 535d (and then some), which offers nearly 40 miles per gallon on the highway and a slew of other cars that offer vast amounts of space more than the ELR, which has two doors, and is more of a coupe than a large sedan.
Fair enough. If it's coupes that one is looking for, then, a BMW 6 Series will run about the same, while a Mercedes C-Class Coupe or even E-Class Coupe will run for far less. However, these cars won't offer the same kind of fuel economy that the Cadillac is offering, but that's another key problem right there: a $75,000 price tag puts the ELR in firing range of the Tesla (NASDAQ:TSLA) Model S.
The Tesla, while it has its own issues with range and charging times, has taken the automotive world by storm, and is well on its way for setting a new standard of luxury. Moreover, in addition to its numerous awards, safety cred, and all the luxury trappings, it's an incredibly practical car as well, especially for those who don't need to commute more than 100-120 miles per day, or even more. But what the ELR boasts that the Tesla doesn't is a small, compact footprint, which is ideal for cities and urban settings.
It appears, then, that the Cadillac ELR is aimed at a very narrow, niche market. Whether it was even aimed for one or not, chances are slim that the ELR will find widespread appeal. Buyers looking for a luxury coupe rarely put fuel efficiency over performance, and buyers looking for a fuel efficient luxury car are more than likely looking for more space. The ELR seems to fall in between.
Lastly, the Cadillac brand is still getting on its feet after years of neglect that damaged the nameplate's reputation as a luxury leader and innovative company. While it's had a spectacular year by any measure, the wound is still in the healing process and it may be a while before Cadillac can generate the same kind of cachet that the German brands have enjoyed for years. Therefore, there is a chance that some may get hung up on spending three-quarters of a hundred grand on a Caddy — a two-doored one, at that (the Escalade can routinely breach the $75,000 mark, however).
To its credit, the ELR is more than the Volt on which its based. The exterior is far more sporty and appealing than the Volt's, while Autoblog is "expecting a drop-dead gorgeous interior," which would be consistent with Cadillac's other products of late.
Observers seem to agree that the tag is too steep for the car is tied to. A poll on Autoblog, at the time of writing, had 86 percent of the respondents voting that the ELR was too expensive. For now, time will tell all as far as how the market responds to GM's latest luxury offering.
Don't Miss: 12 Trucks and SUVs in Line for Car of the Year.