Did Hedge Funds Finally Give Up on Gold?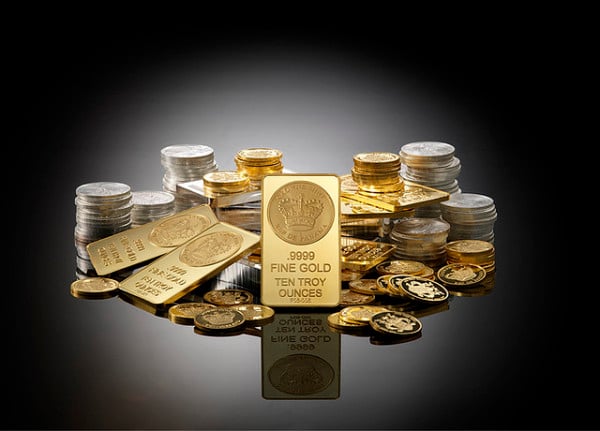 The price of gold continued to decline in the second quarter as the precious metal posted its biggest three-month loss since America went off the gold standard. Sentiment reached new multi-year lows and several popular hedge funds adjusted their positions.
Late Wednesday, many institutional investment managers filed their mandatory 13-F with the U.S. Securities and Exchange Commission. The filing is a quarterly report of equity holdings required by managers that oversee more than $100 million in qualifying assets and it must be filed within 45 days of the end of each quarter. The 13-F provides a peek at what hedge funds did in the previous quarter, but investors should keep in mind that hedging and trading strategies of each fund are still unknown.
Listed below are details on how popular hedge funds invested in gold names in the second quarter of 2013.
Billionaire fund manager John Paulson is known for betting against subprime mortgages during the housing bubble, but he is also a vocal advocate for gold. Last year, he said in a letter to investors, "By the time inflation becomes evident, gold will probably have moved, which implies that now is the time to build a position in gold." He reaffirmed his belief that gold is a good hedge against inflation last month, but he dramatically reduced his exposure to the precious metal.
At the end of June, his firm Paulson & Co. held 10.2 million shares of the SPDR gold Trust (NYSEARCA:GLD) — the most popular exchange-traded gold product in the market. That is down 53 percent from 21.8 million shares held at the end of March. Some have speculated that his eventual unwinding of SPDR Gold Trust shares would collapse the ETF's price, but shares are up more than 8 percent since the end of June.
Paulson also trimmed his position in AngloGold Ashanti (NYSE:AU) from 28.2 million shares to 27.9 million shares. However, he did not change his holdings in Agnico Eagle Mines (NYSE:AEM), Gold Fields (NYSE:GFI), and IAMGOLD (NYSE:IAG). Interestingly, he raised his stake in Freeport-McMoRan Copper & Gold (NYSE:FCX) from 9 million shares to 15.5 million shares — worth $428 million.
George Soros, the billionaire hedge fund manager known for breaking the Bank of England, once claimed that the "ultimate asset bubble is gold." His management team still kept exposure to gold and the miners long after the statement, but finally decided to do some selling in the second quarter.
Soros Management completely sold out out the SPDR Gold Trust, Freeport-McMoRan Copper & Gold, and the Market Vectors Gold Miners ETF (NYSEARCA:GDX). The Market Vectors Jr. Gold Miners ETF (NYSEARCA:GDXJ) stake was unchanged at 1.2 million shares. The firm added a new position in Barrick Gold (NYSE:ABX) through call options, but had new put options on Goldcorp (NYSE:GG) and the juniors ETF.
Greenlight Capital's David Einhorn once wrote a colorful piece criticizing the Federal Reserve's monetary policy, relating the central bank to force-feeding someone too many jelly donuts in hopes of a sugar rush. With the Fed maintaining record low interest rates, Einhorn explains, "As a result, I will keep a substantial long exposure to gold, which serves as a jelly donut antidote for my portfolio."
While it is unknown how large of a physical bullion position Einhorn holds, he made a couple of changes with the miners. By the end of the second quarter, Einhorn completely sold out of Barrick Gold — a position worth $50 million at the end of March. However, he increased his stake in the Market Vectors Gold Miners ETF from 6 million shares to 8.8 million shares — worth $215 million.
Third Point, the hedge fund founded by Daniel S. Loeb, sold all of his 130,000 shares in the SPDR Gold Trust, worth about $20.1 million at the end of the first quarter. Interestingly, he increased his stake in what could be a hard asset or wealth-effect play.
Third Point held 2.5 million shares of Sotheby's (NYSE:BID) at the end of June, compared to 500,000 shares at the end of March. Sotheby's is a world-known auctioneer of fine art and jewelry.
The downtrend in precious metals attracted Leon Cooperman's Omega Advisors to several precious metal names in the first quarter, but his firm completely sold out of the positions in the second quarter. Omega Advisors closed positions in the SPDR Gold Trust, iShares Silver Trust (NYSEARCA:SLV), Market Vectors Gold Miners ETF, and Freeport-McMoRan Copper & Gold.
Don't Miss: Is China Still Interested in Gold?
Follow Eric on Twitter (@Mr_Eric_WSCS)
If you would like to receive professional analysis on miners and other precious metal investments, we invite you to try our premium service free for 14 days.
Disclosure: Long EXK, AG, HL, PHYS