Did Obamacare End Medical-Billing Secrecy?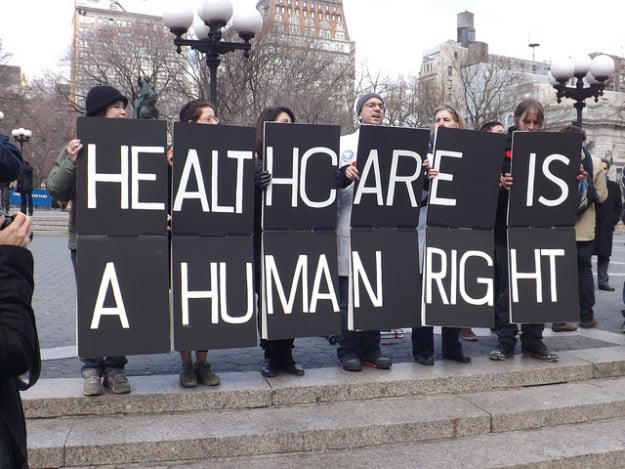 As made abundantly clear from data released by the International Federation of Health Plans, which reports the prices insurers are actually paying for different drugs, devices, and medical services in different countries, healthcare in the United States costs much more than it does in other countries. Excluding the politics — leaving behind arguments over whether the government should become more or less involved in healthcare — simple facts show a great disparity in the actual cost of health services compared to the prices listed on hospitals' chargemasters.
The particulars of this information were just made available to the public Wednesday. Health and Human Services Secretary Kathleen Sebelius announced a significant change that will take a great deal of secrecy out of hospital billing. The department's Centers for Medicare and Medicaid Services released a data file that shows the list — known as the chargemaster — of prices charged by all hospitals across the United States for the 100 most common inpatient treatment services from 2011. The file also compares those prices with what Medicare paid for those same treatments, which was typically a fraction of the chargemaster prices.
A statement released by the Department of Health & Human Services noted that the data release is a significant cornerstone in the Obama Administration's efforts to make the U.S. healthcare system more affordable and accountable. "Currently, consumers don't know what a hospital is charging them or their insurance company for a given procedure, like a knee replacement, or how much of a price difference there is at different hospitals, even within the same city," Sebelius said. "This data and new data centers will help fill that gap."
In the same announcement, Sebelius said the department will be offering $87 million dollars to states to form what she termed "health-care-data-pricing centers." These centers will take the more than 163,072 lines of data in the CMS file and make it more local and user-friendly.
There are several reasons why this release is an important beginning in demystifying medical costs. First, the data reveals the gulf between what hospitals charge for procedures, treatments, and medications and the actual costs of those services, as calculated by Medicare. In order to determine the real costs of all treatments, Medicare averages expense data submitted by all hospitals in the United States, including allocations for overheads like rent or salaries, and offers compensation accordingly and inline with the idea that nonprofit hospitals should actually operate for no profit.
A prime example can be found in the first line of the release; according to the Medicare review of the list prices on bills it received from 91 patients who were treated for "extracranial procedures…without complications" at the Southeast Alabama Medical Center in Dothan, Alabama, the average chargemaster bill claimed by the hospital was $32,963. Medicare paid an average of $5,777.
It is clear that Medicare is not paying hospitals less than cost from this quote a top CMS official gave Time Magazine.
"I was driving through Central Florida a year or two ago, and it seemed like every billboard I saw advertised some hospital with these big shiny buildings or showed some new wing of a hospital being constructed…So when you tell me that the hospitals say they are losing money on Medicare and shifting costs from Medicare patients to other patients, my reaction is that Central Florida is overflowing with Medicare patients and all those hospitals are expanding and advertising for Medicare patients. So you can't tell me they're losing money…Hospitals don't lose money when they serve Medicare patients."
The 17,511 pages of data also demonstrate that hospitals' chargemaster prices are very inconsistent. As Sebelius points out in her statement, the "average inpatient charges for services a hospital may provide in connection with a joint replacement range from a low of $5,300 at a hospital in Ada, Oklahoma, to a high of $223,000 at a hospital in Monterey Park, California. Even within the same geographic area," she notes, "hospital charges for similar services can vary significantly. For example, average inpatient hospital charges for services that may be provided to treat heart failure range from a low of $21,000 to a high of $46,000 in Denver, Colorado, and from a low of $9,000 to a high of $51,000 in Jackson, Mississippi."
Most likely, the hospital lobby group, led by the American Hospital Association, will complain that only a minority of patients actually pay those amounts, thanks to insurance coverage, but the discounts insurers such as Aetna (NYSE:AET) and UnitedHealth (NYSE:UNH) negotiate vary widely as well. A knee replacement surgery at one hospital may cost an Aetna-insured patient $11,000, while UnitedHealth's discount might result in a cost of $22,000. A 20 percent copay for each policy might look like the same insurance, but for the same surgery one patient will pay $2,200 and the other will pay $4,400. Even under the same insurance, costs will vary from one hospital to another. So, there is more work for the Department of Health & Human Services to do.
Don't Miss: Is Molycorp Showing Signs of Life?
You can follow Meghan on Twitter (@MFoley_WSCS) for the latest industry news.