Did Retail Sales Catch a Case of the Chills?
"An abnormally cold bout of weather in the eastern two-thirds of the country brought a chill to consumers and their interest in spring goods–especially apparel," said ICSC Chief Economist Michael Niemira in the press release for the weekly ICSC-Goldman Store Sales tally, seen by FoxBusiness.
The International Council of Shopping Centers and Goldman Sachs Retail Chain Store Sales Index — a weekly measure of comparable store sales at major retail chains — dropped unexpectedly by 1.7 percent on a week-over-week basis for the week ended March 23. For comparison, last week sales rose 1.4 percent.
On an annual basis, the sales picture was only slightly better; the 1.7 percent weekly decline pushed the year-over-year rate to an increase of just one percent. This drop, from the previous week's gain of 2.3 percent, brought the same-store sales index to its lowest level since the economic recovery began…
Johnson's Redbook, another weekly barometer for the health of consumer spending, showed a moderately different reality. While ICSC-Goldman's same-store sales index indicated that retail growth slowed dramatically, Redbook's tally reported a 2.6 percent gain, year over year, although growth was down from the previous week's 2.9 percent. Whereas ICSC-Goldman noted that cold weather hurt sales for spring goods, Redbook stated that sales will continue to increase with help from the upcoming Easter holiday, and as a result, the firm has estimated a 0.6 percent gain for the entire month…
The increasingly strong retail figures bode well for the United States' first quarter gross domestic product growth and the economy in general. Redbook's prediction for a slight improvement over February's results suggests that the tabulation of retail sales data made by the U.S. Bureau of the Census every month will show strong growth for March, predominantly in the category that excludes automobile and gasoline sales.
Early in the year, the consumer spending growth thesis — put forward by many analysts, pundits, and even several retailers themselves — postulated that the end of the payroll tax holiday would cause the majority of Americans to tighten their financial belts and cut way back on discretionary spending. This threaten to be quite a problem as consumer spending accounts for more than two-thirds of the economy. But recent data, including the federal government's February retail sales report has shown that not to be the case, at least not yet. For the month, sales rose 1.1 percent for their largest increase since September. This reading also represented a marked jump from January's figures, which came in at a revised 0.2 percent gain.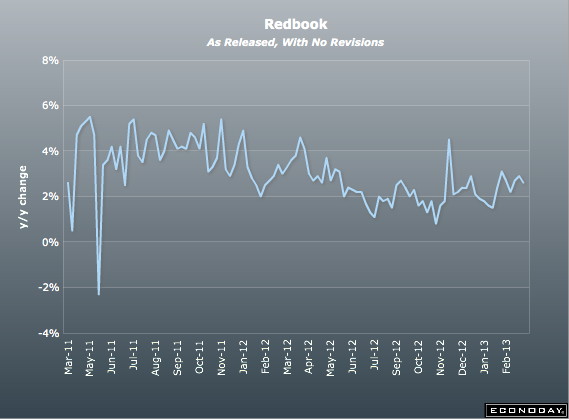 Don't Miss: Ford Says Sorry for This Thoughtless Ad.