Did the Least Productive Congress in History Boost Stocks?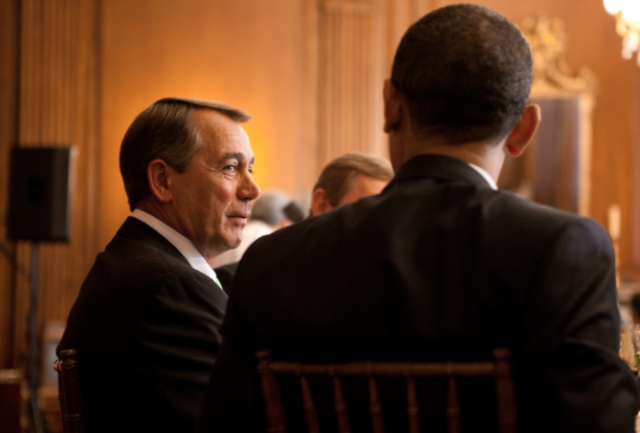 After years of moving from one self-inflicted crisis to the next, the political bobbleheads on Capitol Hill have managed to dance their way to embarrassing productivity levels — even for Washington standards.
With the help of the fiscal cliff debacle and a highly publicized government shutdown debate, the current group of Congress members will enter the record books as the least productive group of lawmakers in decades. The first session of the 113th Congress passed only 55 substantive laws, which excludes only purely ceremonial legislation such as post-office renamings and commemorative-coin authorizations, according to Pew Research Center and the Library of Congress.
In comparison, the 112th and 111th Congress passed 63 and 79 laws in their first year, respectively. Since the 108th Congress passed 144 laws in 2003, the number of laws passed each year has been declining steadily. One could argue that Congress should also be judged on its ability to repeal laws, but as Pew Research points out, the current Congress hasn't repealed any laws either.
What does Congress do all day? Certainly not enough to keep most Americans happy. The latest Gallup poll revealed that Americans' job approval ratings for Congress in 2013 averaged just 14 percent, the lowest annual average since Gallup started the poll in 1974. Congressional approval typically averages about 33 percent, with the highest yearly average coming in at 56 percent in 2001.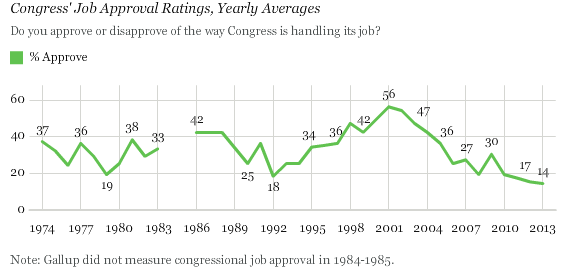 "Congress approval has averaged below 20 percent in each of the last four years, and in five of the last six," explains Gallup. "Before this time, only in 1979 and 1992 did congressional approval average less than 20 percent annually. Thus, 2013 extends an unprecedented period in which Americans have given their elected representatives in Congress continually poor marks for their job performance."
While the general public has little confidence in policymakers, investors don't seem to mind the lack of productivity. This year, the Dow Jones Industrial Average and S&P 500 have surged 26 percent and 29 percent to make new record highs, respectively. In fact, both major indices are posting their best yearly gain since the late 1990s. Meanwhile, the Nasdaq is at its highest level since the dotcom bubble.
However, the negative effects of Congress over long-term returns are well documented. In a report from Professor Michael Ferguson from the University of Cincinnati and Dr. Douglas Witte from the University of Missouri, congressional activity is found to have a strong relationship with lower stock returns and higher volatility. In contrast, returns are higher and volatility is lower when Congress is not in session.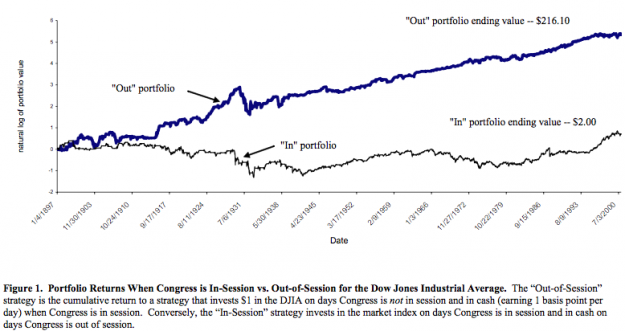 The so-called "Congressional Effect" accumulates impressively over time. Between 1897 and 2006, more than 90 percent of the capital gains in the Dow Jones Industrial Average came on days when Congress was out of session. Going back to 1957, the S&P 500 has logged more than two-thirds of its rise when Congress was not in session.
Ferguson and Witte also explain, "The most compelling evidence that the Congressional Effect is a real economic phenomenon is the finding that the Effect for both mean returns and volatility varies systematically with the public's attitude toward Congress. In particular, returns are highest and volatility lowest when a relatively unpopular Congress is out of session. Conversely, returns are lowest and volatility highest when a relatively popular Congress is out of session."
More From Wall St. 
Cheat

 Sheet:

Follow Eric on Twitter @Mr_Eric_WSCS