Did Wal-Mart's E-Commerce Stumble Put its Future at Risk?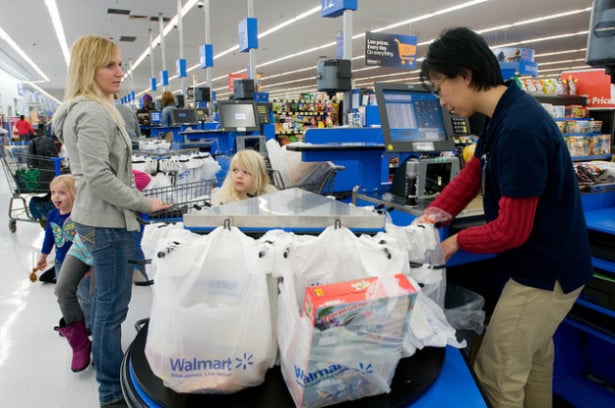 The difference between the Web sales figures of Amazon (NASDAQ:AMZN) and Wal-Mart (NYSE:WMT) points to a growing problem at the Bentonville, Arkansas-based discount retailer. While Wal-Mart built its reputation and became the world's largest retailer in part by the efficiency of its supply chain, the company has had difficulties making good on the promises to become an online force that it has made repeatedly over the past decade.
Instead, with the help of more than 40 warehouses sprinkled across the United States — some that even employ robotic assistants to speed orders to homes — Amazon has become the clear leader in online sales. Last year, Amazon's Web sales soared to $61 billion, compared to the estimated $7.7 billion Wal-Mart generated from online sales. Surprisingly, the problem is efficiency.
To remedy its problems, Wal-Mart is creating a new logistics system: new warehouses are being built to store web orders, and workers in stores are being used to pack and mail items to customers, because the company has determined it is faster and cheaper to send some shipments from its more than 4,000 U.S. stores. Executives say that the company is being forced to invent its own solution, rather than mirror Amazon's strategy, because it still has not yet figured out the most economic method to deliver products to online shoppers, reported The Wall Street Journal.
"We're starting to gain traction," Chief Executive Mike Duke noted during the company's annual meeting earlier this month. "I say starting because we know that it's an area where we still have a long ways to go." Online sales did increase 16 percent in the U.S. to $224.3 billion last year, but physical world sales still account for $9.50 of every $10 consumers spent at Wal-Mart, a jump of just 5 percent from the year before. This year, Wal-Mart said it expects to generate $10 billion from online sales, a figure that would amount to approximately 2 percent of its $469 billion in annual revenue.
Former company executives told the Journal that part of Wal-Mart's problem was an internal disagreement. They described a culture clash between revenue-focused online engineers at the company's office in California and profit-driven logisticians in Arkansas, which caused Wal-Mart to be late to invest in Internet distribution. Every year, executives would begin a "five-year planning exercise, but the plans were never executed and management would say the sales weren't there to justify the investment capital," a former online-division executive told the publication. E-commerce is still just a "rounding error in the U.S. market," the executive added.
Even now, Wal-Mart's e-commerce operations are run as a distinct business with its own headquarters, chief executive officer, and merchants who buy products specifically for the website.
As evidenced by the numbers, Wal-Mart's online sales have grown. But as orders swelled, the retailer turned to makeshift spaces carved out of store-serving distribution centers and third-party warehouse operators to store products. This added to costs; Wal-Mart's online shipping runs about $5 to $7 per parcel, while Amazon averages $3 to $4 per parcel.
Wal-Mart now says e-commerce is a top priority. It has pledged to solve its online problems with a distribution network that shares inventory information between its 4,000 stores and 158 warehouses, determining the best way to deliver a television or a t-shirt to a customer nearby. To support this system, the retailer will build an undisclosed number of additional e-commerce distribution centers this year, and in some cases, workers with shopping carts will take the items off Wal-Mart store shelves, package them, and mail them out to online customers.
That strategy makes sense, because more than two-thirds of the U.S. population lives within five miles of a Wal-Mart, and trucks crisscross the country daily to replenish the stores, "which can greatly reduce shipping costs," Joel Anderson, head of Walmart.com's U.S. division, told the Journal.
In March, Wal-Mart officials said its e-commerce investments would cost 9 cents a share this year, which equals about $430 million in pretax dollars.
Neil Ashe, Wal-Mart's president of global e-commerce, has conceded that the online problem is challenging. While using stores to fulfill some online orders will save shipping costs, it could pull attention away from ensuring stores are clean and properly stocked, analysts say. When asked how long it would take and how much it would cost to create the e-commerce operation, Ashe told the Journal that "it will take the rest of our careers and as much as we've got. This isn't a project. It's about the future of the company."
Don't Miss: Can Nike Copy Apple's App Store Success?
Follow Meghan on Twitter
@MFoley_WSCS