Digitalglobe Receives Antitrust Clearance and 4 Stocks Hitting 52-Week Highs
Affiliated Managers Group (NYSE:AMG): Closing price $138.15
Eaton Vance announces its 5.08 percent passive interest in Affiliated Managers. Shares closed up 0.73 percent on the day at $138.15, and have traded in a 52-week range of $94.32 to $137.79.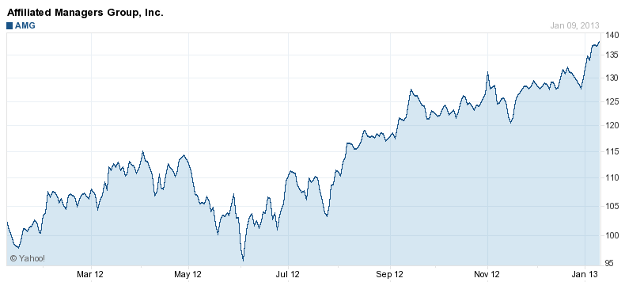 Azz Incorporated  (NYSE:AZZ): Closing price $40.03
The firm narrows its fiscal year 2013 estimates of revenue to a range between $575 million and $585 million, from $575 million to $600 million, with a consensus of $586.83 million. The two-for-one-stock split that was effective July 30th has been priced into the guidance, but it reflects neither the purchase of NLI during the last nine months of fiscal year 2013, nor the acquisition of Galvcast for the last five months of the same period, nor G3 Galvanizing for the last two months. Shares closed up 0.55 percent on the day at $40.03, and have been traded in a 52-week range of $23.20 to $40.66.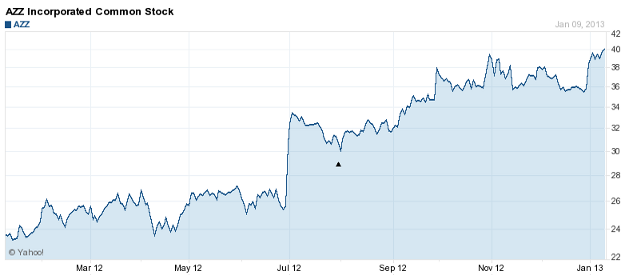 Start 2013 better than ever by saving time and making money with your Limited Time Offer for our highly-acclaimed Stock Picker Newsletter. Get our fresh Feature Stock Pick now!
TransCananda Corporation (NYSE:TRP): Closing price $48.98
TransCanada has been chosen to design, build, own and operate the proposed $5 billion Prince Rupert Gas Transmission project by Progress Energy Canada (NYSE:PGN), which is the successor by amalgamation of Petronas Carigali Canada and Progress Energy Resources Corp. The proposed pipeline will carry natural gas mostly from the North Montney gas-producing region near Fort St. John, British Columbia to the recently-reported Pacific Northwest LNG export facility in Port Edward near Prince Rupert. Progress and TransCanada anticipate finalizing definitive agreements early this year, subject to approvals by their respective Boards. Shares closed up 2.28 percent on the day at $48.98, having been traded in a 52-week range between $39.74 and $49.01.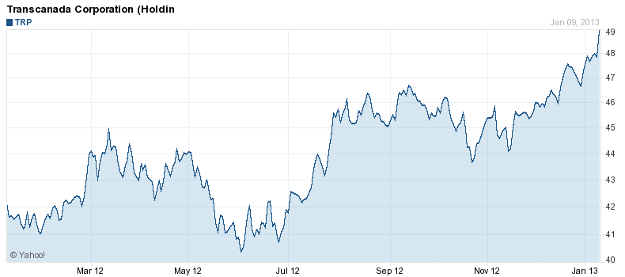 DigitalGlobe (NYSE:DGI): Closing price $28.84
DigitalGlobe has won antitrust clearance from the Justice Department in regards to its pending combination with GeoEye (NASDAQ:GEOY). As previously reported, the boards of both parties unanimously okayed a definitive merger agreement.  DigitalGlobe is working cooperatively with the regulators FCC and NOAA, and the transaction should close by January 31st.  Shares closed up 6.03 percent on the day at $28.84, having been traded in a 52-week range between $11.61 and $29.45.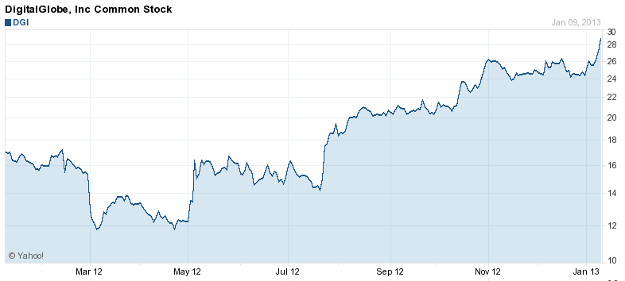 Hanmi Financial Corporation (NASDAQ:HAFC): Closing price $15.26
Hanmi has recruited DelMorgan & Co. to recommend moves on a potential divestiture, which could lure interest from Wilshire Bancorp (NASDAQ:WIBC) and BBCN Bank, which are also based in Los Angeles and target the same market, say sources to Bloomberg. Shares closed up 8.07 percent on the day at $15.26, and have been traded in a 52-week range of $7.87 to $14.43.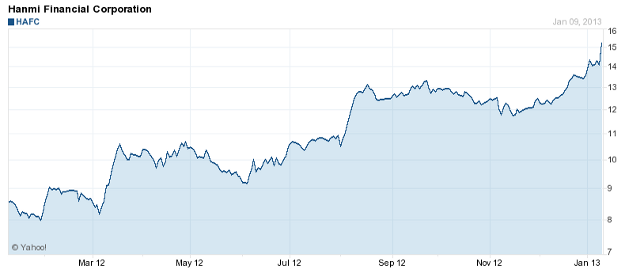 Don't Miss: Is There a Light at the End of BAC's Litigation Tunnel?