Dimon Threatening Exit From JPMorgan and 2 Other Dow Movers to Watch
JPMorgan Chase & Co. (NYSE:JPM): Current price $49.56
If JPMorgan shareholders should elect to dismember Chairman and CEO Jamie Dimon's role at the bank, he said he might think about leaving the firm where he has held the supreme position since 2005, according to The Wall Street Journal on Saturday. Later in May, shareholders will vote at an annual meeting in Tampa, on a non-binding proposal to separate the chairman and chief executive roles after the now-famous $6 billion trading loss in 2012 forced questions about risk oversight. Initially, Dimon said he would not remark publicly on what he would do if the vote went awry, but when pressed he said that the worst-case scenario would be to exit the bank, according to the newspaper, citing inside sources. Results of the vote will be reported on May 21, but it is still unclear how the board will react if the proposal passes.
The Walt Disney Company (NYSE:DIS): Current price $67.41
For a second consecutive weekend, Iron Man 3 kept its first place at cinemas in the United States and in Canada for Walt Disney's Marvel unit. Iron Man 3, starring Robert Downey Jr., opened the previous weekend with $174.1 million, representing the second largest debut ever, and sales are tracking similarly to those of The Avengers, also from Disney, which launched on the first weekend of May in 2o12, with the biggest opening weekend ever, with $207.4 million.

United Technologies  (NYSE: UTX): Current price $95.04
Rich Smith at The Motley Fool is reporting that United technologies proper has been awarded a maximum $16.6-million firm-fixed-price, sole-source contract to provide fan rotors and replacement parts to the United States Air Force through June 30, 2014. The new UTC subsidiary Goodrich Pump and Engine Control Systems has secured a contract almost three times as large, with a $48 million firm-fixed-price, multiyear agreement for the sale of up to 1,500 fuel control systems to be employed aboard Boeing CH-47 helicopters.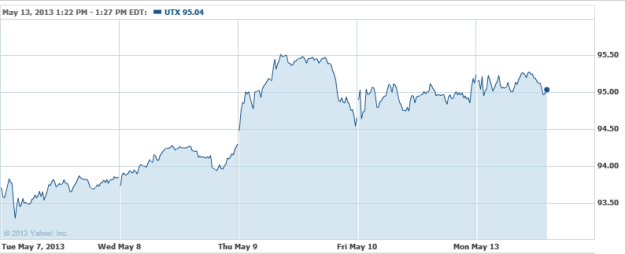 Don't Miss: The Fed: Don't Worry, We'll Keep An Eye On Things.