Diodes Incorporated Earnings: Revenue Grows By Double-Digits For Fifth-Straight Quarter
Diodes Incorporated (NASDAQ:DIOD) reported its results for the first quarter. Diodes Inc. is a designer, manufacturer and supplier of high-quality, application specific standard products within the discrete and analog semiconductor markets, in the consumer electronics, computing, communications, industrial and automotive markets.
Don't Miss: Wall St. Cheat Sheet's newest Feature Trades of the Month!
Diodes Incorporated Earnings Cheat Sheet for the First Quarter
Results: Net income for Diodes Incorporated rose to $19.7 million (42 cents/share) vs. $15 million (33 cents/share) in the same quarter a year earlier. A rise of 31.6% from the year earlier quarter.
Revenue: Rose 18.1% to $161.6 million YoY.
Actual vs. Wall St. Expectations: DIOD reported adjusted net income of of 47 cents/share. By that measure, the company fell in line with the mean estimate of 47 cents/share. Estimates ranged from 46 cents per share to 48 cents per share.
Quoting Management: Commenting on the results, Dr. Keh-Shew Lu, President and Chief Executive Officer of Diodes Incorporated, stated, "Our revenue for the quarter was stronger than typical first quarter seasonal patterns, resulting from market share gains in tablets, notebooks, smartphones and LED TVs. We had a strong quarter in Europe and Asia, while North America revenue declined sequentially. The quarter was impacted by reduced unit output from our Shanghai packaging facilities resulting from lower equipment utilization caused by China labor shortages mentioned last quarter and a larger than normal number of workers not returning from the Chinese New Year holiday."
Key Stats:
The company has enjoyed double-digit year-over-year revenue growth for the past five quarters. Over that span, the company has averaged growth of 39.2%, with the biggest boost coming in the first quarter of the last fiscal year when revenue rose 75.3% from the year earlier quarter.
Competitors to Watch: ON Semiconductor Corp. (NASDAQ:ONNN), Fairchild Semicond. Intl. (NYSE:FCS), Alpha and Omega Semicond. Ltd (NASDAQ:AOSL), Microsemi Corporation (NASDAQ:MSCC), Vishay Intertechnology (NYSE:VSH), IXYS Corporation (NASDAQ:IXYS), Texas Instruments Inc. (NYSE:TXN), Intl. Rectifier Corp. (NYSE:IRF), Infineon Tech. AG (IFNNY), and National Semicond. Corp. (NYSE:NSM)
Stock Performance: Shares of DIOD are up 1% from the previous close.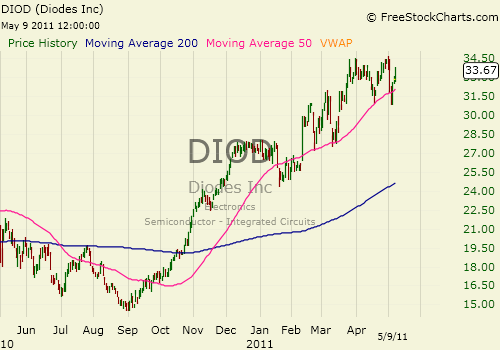 Don't Miss Wall St. Cheat Sheet's newest Feature Trades of the Month!