DirecTV Bids $1 Billion for Hulu: Join the Club
DirecTV (NASDAQ:DTV) has bid more than $1 billion for streaming video company Hulu, according to sources cited by Reuters. DirecTV joins a growing list — seven in total so far – who have recently bid for the company. Hulu is owned by NBC Universal (NASDAQ:CMCSA), Fox Broadcasting Company (NASDAQ:NWSA), and Disney-ABC Television Group (NYSE:DIS), but NBC has no management control because it is owned by Comcast (NASDAQ:CMCSA) now and federal regulators made the company give up control of Hulu as part of the acquisition deal.
Besides just DirecTV offering north of the $1 billion mark, at least two other companies have put in similar bids. Their identities are not currently known. Hulu currently has 4 million subscribers for its "Hulu Plus" premium subscription service. Unlike Netflix (NASDAQ:NFLX), Hulu signs content deals that allow it to stream episodes of television shows quickly after they first air via broadcast and cable. Yahoo! Inc. (NASDAQ:YHOO) is also among the seven companies currently bidding. Hulu makes about $700 million in revenue each year.
So why has it taken so long for Hulu to find a buyer? Content. All the current Hulu owners are media companies that supply content for the streaming service. How high the price tag for Hulu goes really depends on how much content its buyer wants to license. Does it make sense for DirecTV to spend $1 billion on Hulu? Using Hulu requires high-speed Internet, which Comcast provides. And Comcast is greatly expanding its own streaming content service for its cable subscribers…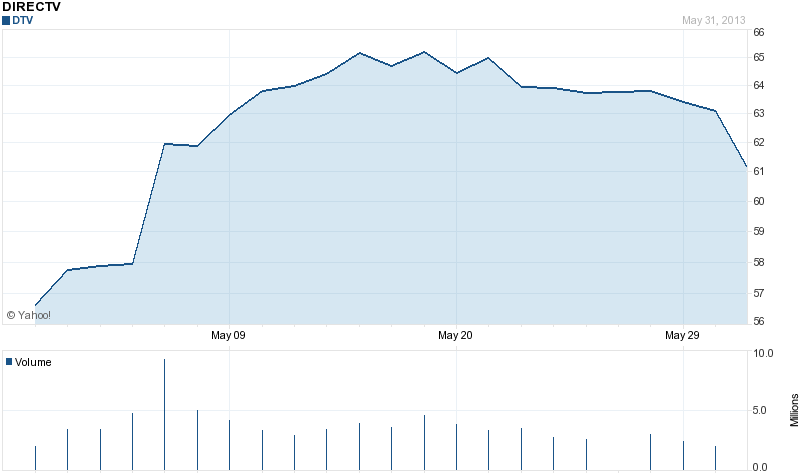 (Chart: Yahoo! Finance)
Follow Mont on Twitter @mfcessna
Investing Insights: Will Amazon See New Highs This Year?