DirecTV Entertains Hulu Bid, Pandora Slides on New Rival, and 3 Other Hot Stocks
DirecTV (NASDAQ:DTV): DirecTV has become the latest to entertain a bid for Hulu, in conjunction with two others, to amass the $1 billion or so necessary to purchase the service. Sources said that the Hulu board fielded seven offers for the service last week, though those bids will be pulled down to two or three as the company explores its various options.

Pandora Media (NYSE:P): Shares of Pandora, recently riding the high of a strong quarterly report, have come crashing down nearly 10 percent on the news that Apple (NASDAQ:AAPL) has struck an iRadio deal with Warner Music, and is still working on inking deals prior to the upcoming Worldwide Developer's Conference. However, not all is lost for Pandora, according to the folks over at Seeking Alpha: working for the benefit of the streaming service is the time users have invested in customizing their radio lists and tailoring their profiles, and Pandora's multi-platform approach, whereas iRadio will only be OSX and iOS compliant.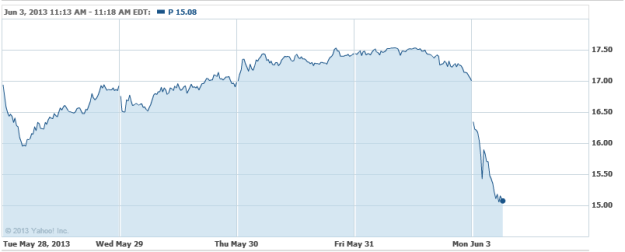 Sanofi-Aventis (NYSE:SNY): The company will be taking a $285 million charge after announcing that it will cease the development of its iniparib drug after it failed in Phase III testing for lung cancer and a Phase II study for ovarian tumors. Iniparib failed in a key breast cancer study in 2011, but the company said it wasn't giving up on the drug, which Sanofi acquired in its $500 million acquisition of BiPar Sciences in 2009.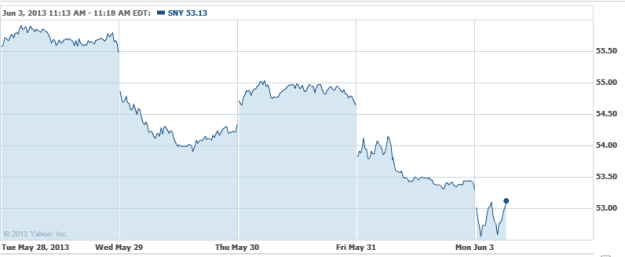 Boeing (NYSE:BA): The announcement that Japan's Japan Airlines took a 787 jet out of service for a sensor issue on its fixed battery system undoubtably raised pulses at Boeing, but the rush didn't last too long after it was discovered that the malfunction was caused by a piece of tape covering two holes used to regulate airflow in case of a battery fault in the auxiliary power unit which was not removed after testing.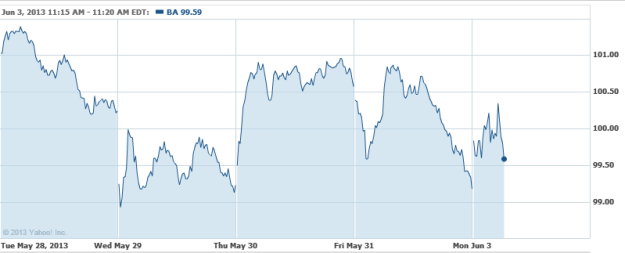 Peregrine Pharmaceuticals Inc. (NASDAQ:PPHM): Shares of Peregrine are ripping almost 10 percent in trading, after the company announced that data from Phase 1 and Phase 2 trials presented at American Society of Clinical Oncology demonstrate its drug bavituximab's potential for treating HER2-negative metastatic breast cancer, and non-resectable Stage IV pancreatic cancer.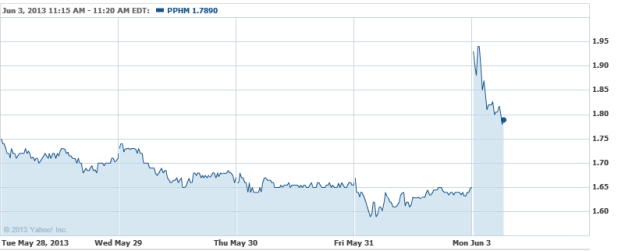 Don't Miss: Xbox One Doesn't Have to Be the 'Best' Gaming Console to Win.