DirecTV Hit by Slagging Latin American Sales, Yelp Gets Upgraded: Market Recap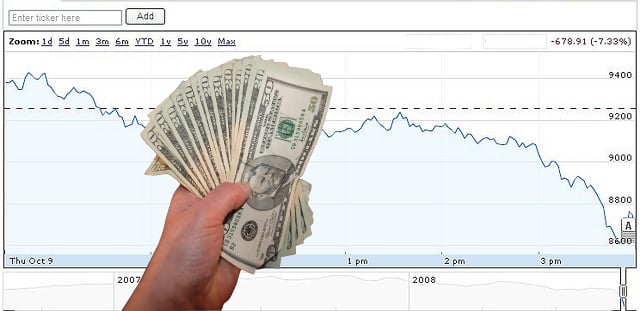 U.S. stocks skyrocketed today, with the S&P 500 rising above 1,700 for the first time, after the Federal Reserve confirmed it wouldn't end stimulus soon and data on global manufacturing beat expectations. Data has shown the U.S. economy has grown in the second quarter, and the Fed said it would maintain its bond purchases due to low inflation.
Gold: -0.21% to $1,310.20 per ounce  Oil: +2.62% to $107.78 per barrel  U.S. 10-Year: +5.01 to 2.723%
Job Cuts on Pace to Fall Below 1997 Levels: If the current pace of layoffs continues, the total number of job cuts in 2013 could fall below 2012's total of 523,362 — the lowest level recorded since 1997. Since January, employers have announced a total of 296,633 job cuts, 7.3 percent fewer than the number of layoffs announced in the first seven months of 2012… (Read more.)
Construction Activity Eases as Government Spending Declines: Construction spending contracted modestly in June, according to the U.S. Census Bureau. The seasonally adjusted annual rate of spending fell 0.6 percent on the month to $883.9 billion, below the Bureau's May estimate of $889.4 billion and missing market expectations for a fractional increase. However, construction spending is still up 3.3 percent on the year… (Read more.)
How Many Americans Actually Have Full-Time Work?: The headline unemployment rate can be misleading, and it often paints a rosier picture of labor market conditions than is called for. The headline rate doesn't include marginally attached or discouraged workers — those who are underemployed and those who have given up on searching for a job… (Read more.)
Here's your cheat sheet to today's top stocks stories:
Procter & Gamble (NYSE:PG) shares climbed after the company reported fiscal fourth-quarter and full-year results that came in ahead of analyst expectations. Net sales for the quarter increased 2 percent on the year to $20.7 billion, beating the average analyst estimate of $20.55 billion. Core earnings for the quarter decreased 4 percent on the year to 79 cents per diluted share, beating the average analyst estimate of 77 cents per share… (Read more.)
DirecTV (NASDAQ:DTV) reported earnings that came in below analyst expectations as the company's growth in Latin America fell far short of forecasts. Earnings per share came in at $1.18, up from $1.09 in the second quarter of last year but short of analyst expectations of $1.33. Revenue for the company came in at $7.7 billion, shy of analyst expectations of $7.75 billion… (Read more.)
U.S. Airways (NYSE:LCC) merger with the bankrupt AMR Corp.'s (AAMRQ.PK) American Airlines has received approval from AMR's creditors, according to a report from the Wall Street Journal, moving the two companies closer to creating the world's largest airline. Based on a preliminary count, AMR said enough creditors have approved the plan for the merger to go through… (Read more.)
Time Warner Cable (NYSE:TWC) released its second-quarter earnings report Thursday morning, reporting a profit that rose 6.4 percent over the year to $481 million, or $1.64 per share, from the year-earlier profit of $452 million, or $1.43 per share. This figure hit below analysts' estimates, marking a trend that followed throughout the rest of the report… (Read more.)
Google's (NASDAQ:GOOG) newest wearable technology, Google Glass, might already be arousing excitement from consumers, but it's also pushing different groups of lawmakers, businesses, and organizations to hurry up and pen their own legislation to ensure the device won't be allowed under their jurisdiction, once it's officially launched in 2014… (Read more.)
Yelp (NYSE:YELP) is doing well after reporting second quarter earnings. Wunderlich upgraded Yelp to Buy from Hold following the company's better than expected second quarter results, and raised its price target for shares to $53 from $30. The firm notes that shares were also upgraded this morning at Northland Securities and JPMorgan.
Follow Jacqueline on Twitter @Jacqui_WSCS
Don't Miss: These 4 Google Glass Enemies are Ready to Blind it Even Before Launch.