DirecTV Wants Hulu, Barnes & Noble CEO Resigns: Market Recap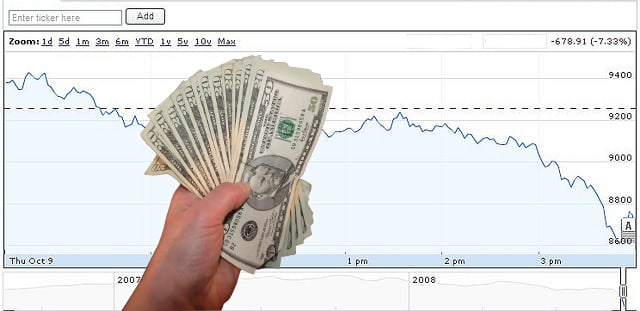 U.S. stocks rose for a fourth straight day today as investors remained optimistic about the chances of companies surpassing the low bar that's been set for earnings season, which kicked off yesterday. Gold also rose after the International Monetary Fund predicted worldwide economic growth will struggle this year.

Gold: +0.91% to $1,247.40 per ounce  Oil: +0.82% to $103.99 per barrel  U.S. 10-Year: -0.57 to 2.63%
Survey: Job Openings Rose in May Thanks to a Hiring Spurt: The U.S. Department of Labor's Job Openings and Labor Turnover Survey put the country's labor market in sharper focus following its June employment report, which showed payrolls rose by a better-than-expected 195,000 and hourly earnings advanced 2.2 percent, the biggest year-over-year gain since July 2011… (Read more.)
The Economy According to the White House: Good, But Not Great: As prescribed by Section 1106 of the United States Code, the White House Office of Management and Budget submitted its Mid-Session Review to Congress this week. The MSR is an update on the administration's estimates for government outlays and receipts, and right now is laser-focused on the deficit and ongoing economic recovery… (Read more.)
Are Retail Sales Headed for a July Growth Spurt?: July is an important month for retail sales this quarter: retailers begin to set new flows, especially for the teen sector, and hot weather spurs spending. Analysts expect sales and traffic will pick up throughout the month, and both the ICSC-Goldman Store Sales Index and Redbook showed evidence of this growth… (Read more.)
Here's your cheat sheet to today's top stocks stories: 
Microsoft (NASDAQ:MSFT) Chief Executive Officer Steven Ballmer is expected to unveil the company's much talked about restructuring plan this week, although the question of who will replace Ballmer as CEO is not likely to be answered just yet. Ballmer is expected to reorganize the company around software and devices, both for consumers and businesses… (Read more.)
DirecTV (NASDAQ:DTV) has reportedly made an offer for online TV streaming service Hulu LLC. The news comes one day after AT&T (NYSE:T) teamed up with Chernin Group to make a joint offer for the company. Guggenheim Digital Media and KKR (NYSE:KKR) have also expressed interest in buying Hulu… (Read more.)
Samsung Electronics's (SSNLF.PK) partnership with Jay-Z was supposed to be destined for greatness — Samsung Galaxy phone users could get a free early bird special to Jay-Z's new "Magna Carta Holy Grail" album and both Jay-Z and Samsung could benefit from the increased exposure. But just as the two parties were about to pat themselves on the back for an idea well done, technical glitches got in the way… (Read more.)
Barnes & Noble (NYSE:BKS) announced a major senior leadership shuffle Monday that included the immediate resignation of CEO and company director William Lynch. The company did not name a new CEO, but Chief Financial Officer Michael Huseby was named chief executive of the Nook Media unit and president of the parent company. Max Roberts, CEO of the company's education business, will report to Huseby… (Read more.)
Kroger Co. (NYSE:KR) and Harris Teeter Supermarkets Inc. (NYSE: HTSI) have announced a merger agreement in which Kroger will purchase Harris Teeter's outstanding shares for $49.38 per share, a deal valued at approximately $2.5 billion. The acquisition is Kroger's largest in nearly 15 years and comes as the supermarket chain continues to expand throughout the southeastern U.S. With Harris Teeter's presence from Florida to Delaware, the deal will increase Kroger's store count by approximately 10 percent… (Read more.)
Tesla Motors (NASDAQ:TSLA) officially agreed to join the Nasdaq-100 Index next week before the start of trading on July 15. The move reflects a significant victory for Nasdaq but also especially for Tesla, the electric carmaker that made headlines this year as it rolls out its iconic Model S and turns its first quarterly profit… (READ MORE.)
Alcoa Inc. (NYSE:AA) kicked off earnings season Monday by closing the day up 1.41 percent and advancing as much as 1.2 percent further in post-market trading after beating earnings estimates. The aluminum company reported sales of $5.85 billion, a decline of 1.8 percent on the year but ahead of estimates for sales of $5.83 billion… (Read more.)
Don't Miss: Top 5 Foreign Purchasers of U.S. Real Estate.
Follow Jacqueline on Twitter @Jacqui_WSCS