Disappointing Earnings from Cisco and Wal-Mart Weigh on Stocks: Market Recap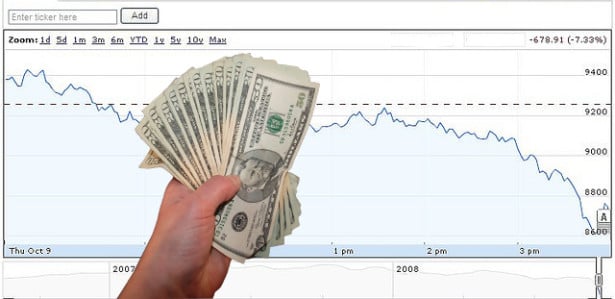 U.S. stocks fell the most since June on Thursday upon disappointing earnings results from Cisco Systems Inc. (NASDAQ:CSCO) and Wal-Mart (NYSE:WMT). Investors are also weighing concerns that the economy has recovered enough for the Federal Reserve to end stimulus next month. All 10 industries in the S&P 500 declined Thursday.

Gold: +2.22% to $1,363.00 per ounce; Oil: +0.36% to $107.23 per barrel; U.S. 10-Year: +1.59 to 2.755%.
Good News: Labor Market, Jobless Claims at Pre-Recession Levels: With 320,000 new applications, first-time claims for unemployment benefits dropped to pre-recession levels and a six-year low. Last week, the labor market hit a minor bump as jobless claims rose 5,000, igniting concerns that the economy was growing and creating jobs at a far too anemic pace for this stage in the economic recovery… (Read more.)
Consumer Price Inflation Cools as Taper Talk Heats Up: The seasonally adjusted Consumer Price Index for All Urban Consumers, or CPI-U, increased 0.2 percent on the month in July, according to the U.S. Bureau of Labor Statistics. This is consistent with economist expectations but is soft compared to a 0.5 percent increase in June. Over the past 12 months, the unadjusted all-items index has climbed 2 percent… (Read more.)
Recovery Remains Fickle as Industrial Production Slows: Overall industrial production was unchanged in July, according to the U.S. Federal Reserve, which, although not entirely surprising, is disappointing to market watchers hoping for a 0.3 percent increase. Industrial production has struggled to remain positive over the past 12 months on the back of a fickle recovery in manufacturing and ongoing economic headwinds… (Read more.)
Here's your cheat sheet to today's top stocks stories.
Cisco Systems Inc. (NASDAQ:CSCO) had a rough day after posting disappointing next-quarter forecasts in its fiscal fourth-quarter earnings repots, in addition to announcing that it would be laying off 4,000 employees, 5 percent of the company's workforce. On the company's earnings call, CEO John Chambers indicated that while Cisco's business is improving, it's doing so slowly, and guided lower growth for the current quarter… (Read more.)
Wal-Mart Stores (NYSE:WMT) CEO Mike Duke said in the company's second-quarter earnings press release, "There are areas of our business where we can do a better job, and we will." Sales at stores open for at least one year dropped 0.3 percent in the United States, the company's largest region of operations, during the three-month period, while Wall Street was expecting sales to rise 1 percent… (Read more.)
Facebook (NASDAQ:FB) wants to make it easier for you to make purchases via mobile. The company told All Things D on Thursday that it was launching its own PayPal-competing service that will allow users to make purchases on mobile apps using their Facebook log-in information, erasing the need to repeatedly type credit card information into apps on small mobile screens… (Read more.)
J.C. Penney (NYSE:JCP) became an interest of activist investor Bill Ackman of Pershing Square Capital two years ago, when Ackman invested $1 billion in the struggling retailer, betting that he could transform the company into a retail giant. However, as Dartmouth business professor Paul Argenti told Reuters, he "made a very bad bet…" (Read more.)
Estee Lauder (NYSE:EL) delivered positive earnings results Thursday, citing strength in the company's luxury brands as a reason for the growth. Earnings per share grew 41 percent to 24 cents, beating the average analyst estimate that placed the figure at 21 cents. Revenue for the company grew 6.9 percent to meet analyst estimates of $2.41 billion.
Google (NASDAQ:GOOG) said in a court filing regarding the recent National Security Agency scandal — discovered by the advocacy group Consumer Watchdog and reported on by The Guardian – that Gmail users should have no "reasonable expectation" that their emails are confidential, because the search giant has always maintained that user messages are subject to automated processing, and have been since the service's founding… (Read more.)
Don't Miss: Recovery Remains Fickle as Industrial Production Stalls.
Follow Jacqueline on Twitter @Jacqui_WSCS