Disappointing Jobs Data Weighs On Wednesday's Markets
Total non-farm private sector payrolls increased by 158,000 in March, according to the ADP National Employment Report. This compares against an upwardly-revised 237,000 additions in February and expectations for as much as 205,000 for March, which makes the report underwhelming, at best.
ADP reports that an average of 191,000 new private sector payrolls were added per month in the first quarter. March's payroll growth was more than 17 percent shy of the first-quarter average. Stock futures remained pretty much flat following the news, and were dragged into negative territory in early trading.

The majority of new jobs — 151,000 out of 158,000, or about 95 percent — were added by the service-providing sector, with the goods-producing sector accounting for the rest of the growth. Construction posted zero payroll growth, although recently-released data showed an unexpectedly strong gain of 1 percent in construction outlays spending in February.
Businesses with less than 50 employees accounted for about 47 percent of the total increase in March, and businesses with more than 499 employees accounted for about 30 percent of the increase.
The ADP numbers will be used alongside the government's payroll count, which will be updated on Friday, to get a grasp on labor market conditions heading into the second quarter. For February, ADP initially reported 198,000 private payroll additions, while the government reported 246,000.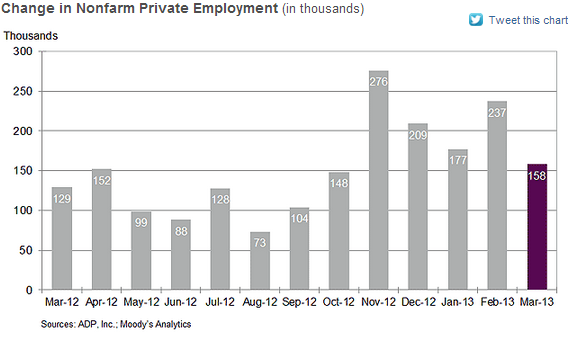 Don't Miss: How Weak is Manufacturing in the Euro Zone?