Discover Financial Services Earnings: Earnings Higher Than Expected
S&P 500 (NYSE:SPY) component Discover Financial Services (NYSE:DFS) reported net income above Wall Street's expectations for the second quarter. Discover Financial Services is a credit card issuer in the United States and an electronic payment services company.
Don't Miss: Wall St. Cheat Sheet's newest Feature Trades of the Month!
Discover Financial Services Earnings Cheat Sheet for the Second Quarter
Results: Net income for the credit services company rose to $600 million ($1.09/share) vs. $258.1 million (33 cents/share) in the same quarter a year earlier. A more than twofold rise from the year earlier quarter.
Actual vs. Wall St. Expectations: DFS beat the mean analyst estimate of 70 cents/share. Estimates ranged from 53 cents per share to 89 cents per share.
Quoting Management: "Our all-time record results this quarter reflect the effectiveness of the Discover business model," said David Nelms, chairman and chief executive officer of Discover. "Sustained improvements in credit performance have driven substantial releases of credit loss reserves, a portion of which has been reinvested for growth. The benefits of these investments can be seen in both our Direct Banking and Payment Services results this quarter. Our capital levels have also benefited from this outstanding performance, leading us to our recent announcement of a $1 billion share repurchase program. While the U.S. economy has yet to show significant strengthening, we are confident that we can continue to achieve profitable growth in all of our lending businesses, complemented by the contribution from our payments activities."
Key Stats:
The company has now topped analyst estimates for the last four quarters. It beat the mark by 31 cents in the first quarter, by 22 cents in the fourth quarter of the last fiscal year, and by 12 cents in the third quarter of the last fiscal year.
Competitors to Watch: American Express Company (NYSE:AXP), Capital One Financial Corp. (NYSE:COF), Visa Inc. (NYSE:V), SLM Corporation (NYSE:SLM), MasterCard Incorporated (NYSE:MA), Citigroup Inc. (NYSE:C), JP Morgan (NYSE:JPM), Wells Fargo (NYSE:WFC), Bank of America (NYSE:BAC), Nelnet, Inc. (NYSE:NNI), CompuCredit Holdings Corp (NASDAQ:CCRT), and The Student Loan Corp. (NYSE:STU).
Stock Performance: Shares of DFS are up over 1% today.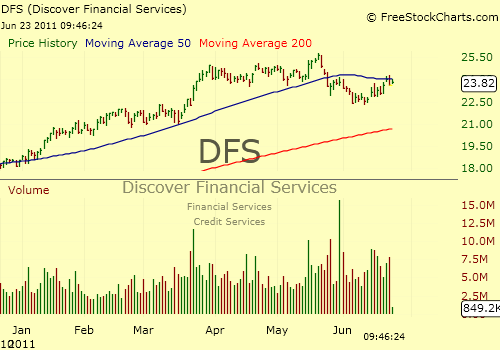 Don't Miss Wall St. Cheat Sheet's newest Feature Trades of the Month!
(Source: Xignite Financials)