Dish Offers to Buy Out Sprint and 2 Telecom Stocks Seeing Action
Sprint Nextel (NYSE:S): Shares of Sprint Nextel were popping Monday morning, following a $25.5 billion offer from Dish Network (NASDAQ:DISH) to buy the third largest wireless carrier out. The deal is aimed to trump an offer from Japan's SoftBank Corp., which has put forth an offer for Sprint as well, which would amount to $20 billion for 70 percent of the company. No vote has been scheduled regarding that deal. The Dish offer puts a 12 percent premium on Sprint stock, and equates to roughly $7.00 per share.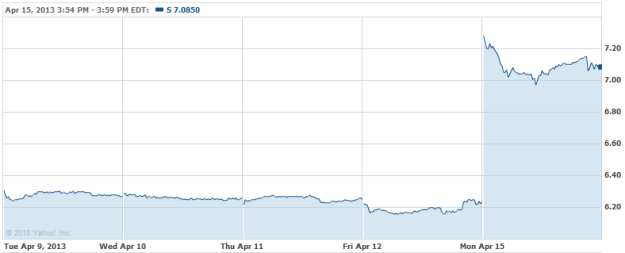 AT&T (NYSE:T): AT&T, the nation's second largest wireless network, may supposedly be getting Samsung's (SSNLF.PK) new Galaxy S 4 smartphone a month before Verizon (NYSE:VZ), according to a Staples (NASDAQ:SPLS) training sheet that was leaked to Engadget. The sheet states that the tentative launch for the S 4 is April 26 for AT&T, May 1 for T-Mobile, and not until May 30 for Verizon. While the statement cautioned that these dates were not carved in stone, the dates match up with the U.K. launch dates as well as T-Mobile's own statements, and Staples' stores are being instructed to put up Galaxy reservation signage on Monday.

Verizon (NYSE:VZ): Verizon has apparently put forth an offer between $1 billion and $1.5 billion for a chunk of Spectrum leases from Clearwire Corp. (NASDAQ:CLWR). Details are scant on the potential deal, it comes as a surprising move from Verizon, given its past aggressive stance on spectrum acquisitions, but at this point in the came, Engadget reports that this avenue may be the only option left, given Spectrum's finite nature. The whole tangle only becomes more complicated given Clearwire's status with Sprint, which owns 50 percent of the company, and a recent buyout offer from Dish — following the falling out of Dish's attempt to purchase Clearwire. It's unlikely that the spectrum storm will pass by smoothly, and the division and allocation of Spectrum resources will likely be dragged out for a while.

Investing Insights: Sirius XM Pays CEO Some Serious Cash.