Disney Has Great Expectations for 'Planes' and 2 Other Dow Movers to Watch
Walt Disney Co. (NYSE:DIS): Current price $64.99
Walt Disney's low-cost animated feature Planes is being viewed as a potential moneymaker for theaters in a season that has thus far been marked by slow sales for big-budget films. The movie, which was inspired by Pixar's Cars, opens Friday. Produced for about one-fourth of what big-budget movies cost, Planes could bring $21 million this weekend and $81 million in its domestic run, according to Boxoffice.com. Generally, animated films do better outside the United States, and Disney already has Planes toys and apparel available in stores.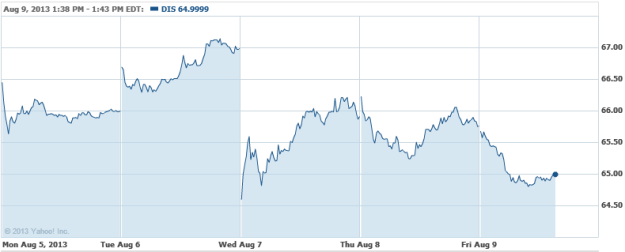 Coca-Cola Co. (NYSE:KO): Current price $40.21
The world philanthropic arm of Coca-Cola, the Coca-Cola Foundation, awarded $8.8 million in grants to 66 community organizations globally during the second quarter, the company announced. These grants support the foundation's concentration areas of enhancing personal well-being, building strong communities, and protecting the environment. Between April and June, $1.9 million was directed toward physical activity and well-being programs; $4.6 million to local priorities which include education, community improvement and other social well-being programs; and $2.3 million to water stewardship, recycling and environmental programs, Coca-Cola said in a release.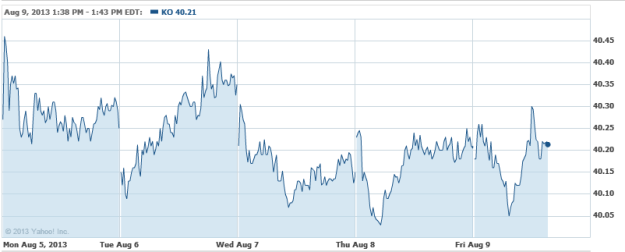 Wal-Mart Stores Inc. (NYSE:WMT): Current price $76.98
Walmart.com announced its first Back to Class Cyber Monday event, providing parents and students the chance to save as much as 60 percent on close to 300 of the most popular back-to-school items, the company said in a release. Each saving will be available on Walmart.com this Monday while supplies last. Customers can gain early access to the event on Sunday by visiting Wal-Mart's Facebook page, according to the release.