Disney Interactive Debuts Disney Infinity for Xbox 360 and 2 Other Dow Movers to Watch
Walt Disney Co. (NYSE:DIS): Current price $62.03
On Monday, Disney Interactive debuted its biggest and most ambitious gaming initiative thus far: Disney Infinity for the Xbox 360, PlayStation3, WiiU, Wii, and Nintendo 3DS. Contained in the starter pack are the game software, the Infinity Base, three character figures, and Play Sets inspired by the The Incredibles, Monsters University, and Pirates of the Caribbean, one Power Disc pack, a trading card with a Web code, and the Toy Box mode.

JPMorgan Chase & Co. (NYSE:JPM): Current price $52.18
It is reported that the Securities and Exchange  Commission is looking into whether JPMorgan hired the children of influential Chinese officials in return for business there. The New York Times reports that the United States regulator is investigating the hiring of the son of a former Chinese banking regulator who is currently the chairman of state-owned financial company China Everbright Group, along with the daughter of a former Chinese railway official. JPMorgan said that it is "fully cooperating with regulators" on the matter, pointing out that it publicly disclosed the situation in its 10-Q filing on August 7.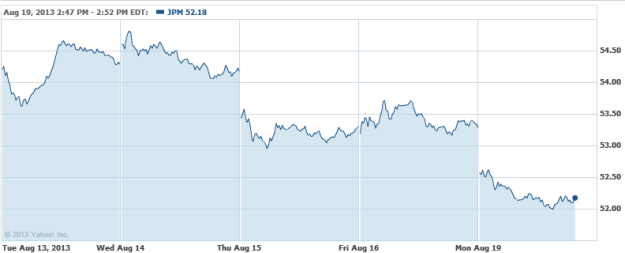 Chevron Corp. (NYSE:CVX): Current price $119.03
Chevron Corp.'s Chevron Products Co., which produces engine oils, lubricants and coolants, on Monday introduced its new GST Premium 32 turbine oil. The product features thermal and oxidative stability and meets requirements of a wide number of turbine original equipment manufacturers including Mitsubishi Heavy Industries, Siemens, and Alstom. The oil is well designed for power generation applications in markets like petrochemical production, utilities, and heavy industry, and is specifically formulated for use in turbines in which extreme temperatures are seen.