Disney Is Bringing Avatar's Pandora to Earth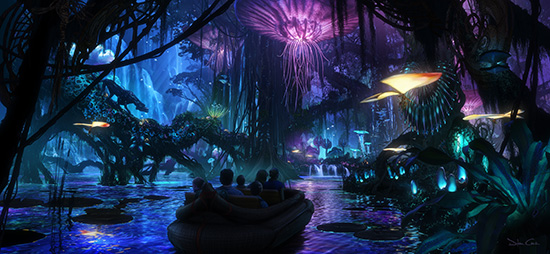 Walt Disney Co. (NYSE:DIS) is set for a high-profile expansion at its Orlando, Florida, theme park based on the highest-grossing film of all time: director James Cameron's Avatar. According to CNN, Walt Disney World's Animal Kingdom will allow park-goers to experience the world of Avatar's Pandora in person when it is opened in 2017.
The Avatar-themed park is being developed by Walt Disney Imagineering in partnership with Cameron and Lightstorm Entertainment. CNN reports that last year, Cameron said, "As I walked through the park, I kept imagining Pandora coming to life all around me and found my mind racing with all the possibilities of what we will be able to create in the years ahead" after a visit to the proposed site. "I can't think of a better home for our first Avatar experience," he added.
Concept renderings unveiled by Walt Disney Parks and Resorts Chairman Tom Staggs revealed an immense scale that support the idea that park-goers will be fully immersed in the world of Pandora.
"[In] the world of Avatar guests will encounter awe-inspiring floating mountains and wander through a nighttime jungle of bioluminescent plants that are alive with light and sound," Staggs wrote in a blog post. Staggs said new entertainment will also be added, including a night show with music, water screens, swirling animal imagery, and floating lanterns.
Of course, an Avatar-based theme park is not the only impending addition to Cameron's Avatar franchise. In July, 20th Century Fox (NASDAQ:FOXA) announced the arrival of three sequels to 2009′s Avatar, tentatively scheduled for release in 2016, 2017, and 2018. Fox said production will begin in 2014, with all three movies filmed simultaneously.
Fox's Avatar remains the highest-grossing film of all time, with a worldwide gross of more than $2.7 billion.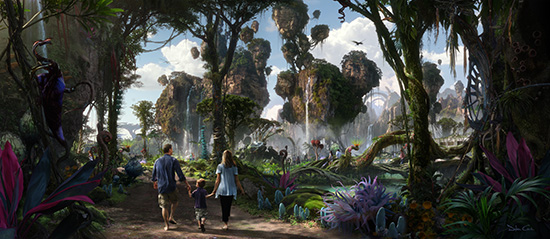 Don't Miss: Netflix Unveils New Alliances and a New Show.