Disney Partners With Network18 Group and 2 Dow Movers to Follow
Cisco Systems (NASDAQ:CSCO): Current price $20.66
Cisco is going for another acquisition, Cognitive Security, which is a Czech security software firm. The buyer intends to unite Cognitive's tech with its own worldwide, cloud-based threat intelligence system.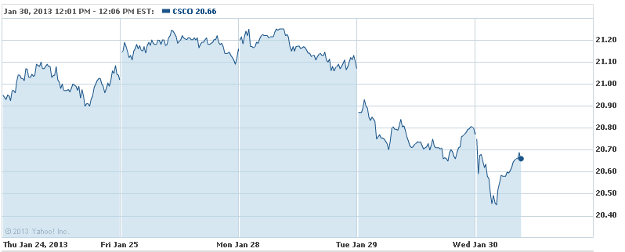 The Walt Disney Company (NYSE:DIS): Current price $53.75
Network18 Group's equal joint venture with Viacom (NYSE:VIAB) has created a partnership in India with the Walt Disney Co. through which to collect content and distribute TV channels, according to the Wall Street Journal. The Network18-Viacom joint venture, which is  called IndiaCast Media Distribution, will own 74 percent and Disney's India division, Disney UTV, will own the remainder.

General Electric Company (NYSE:GE): Current price $22.41
QIAGEN (NASDAQ:QGEN) said that Clarient, a GE Healthcare business, has adopted the use of the therascreen KRAS RGQ PCR Kit as a companion diagnostic to guide the use of Erbitux as a treatment in patients suffering from metastatic colorectal cancer. Clarient has a customer base in excess of 2,000 pathologists, oncologists, clinical laboratories and hospitals. It chose QIAGEN's therascreen KRAS test and QIAGEN's Rotor-Gene Q MDx instrument subsequent to FDA approval of the test in July 2012.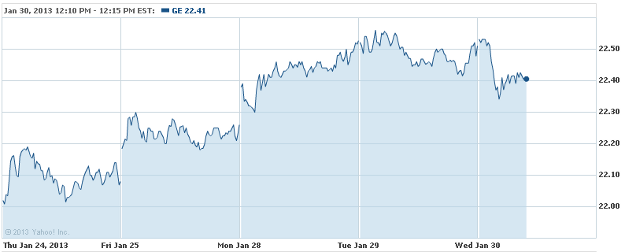 Investing Insights: Is AOL's Stock Undervalued?