Disney Settles 'Iron Man 3′ Dispute and 2 Other Dow Movers to Watch
The Walt Disney Company (NYSE:DIS): Current price $61.84
The three biggest cinema chains in the United States have made terms to screen Walt Disney's Iron Man 3, thus resolving a revenue-sharing battle that threatened the first film of the summer movie season. The largest, Regal Entertainment Group, and the second-biggest AMC Entertainment Holdings were accepting online orders for the May 3rd debut, according to the companies. The number-three chain, Cinemark Holdings , will now also sell tickets, said to a Disney spokesman, but the terms of the agreements were not reported. The chains had opposed the studio's demand for a larger slice of ticket sales, while Iron Man 3 is forecast to be one of the biggest films of 2013, with opening weekend sales of $151 million predicted in the U.S., says Boxoffice.com.

The Boeing Company (NYSE:BA): Current price $92.83
Japan says that it will permit its airlines to restart Boeing Co 787 flights, which will allow ANA Holdings  and Japan Airlines to resume operations with the jet. Transport Minister Akihiro Ohta told reporters in Tokyo that an approval may come very soon, but he did not indicate whether the approval was for commercial or test flights. Boeing has dispatched around 300 personnel on 10 teams to the airlines to install the repair over five days, while readying the handover of new 787s.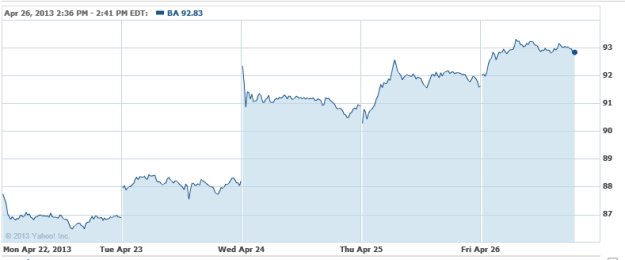 Caterpillar (NYSE:CAT): Current price $84.78
Caterpillar has made a definitive agreement with Citibank through which to purchase shares of its common stock under an accelerated stock buyback program. Pursuant to the agreement, Caterpillar will repurchase $1 billion of its common stock from Citi, with an immediate delivery of roughly 11 million shares based on current market prices. The ultimate number of shares to be bought and the total cost to Caterpillar will be calculated on Caterpillar's volume-weighted average stock price during the term of the transaction, which should be completed in June. Caterpillar Chairman and Chief Executive Doug Oberhelman commented that "This $1 billion accelerated stock repurchase program also underscores our confidence in Caterpillar's long-term prospects for growth and affirms our commitment to deliver superior returns to stockholders through the cycles."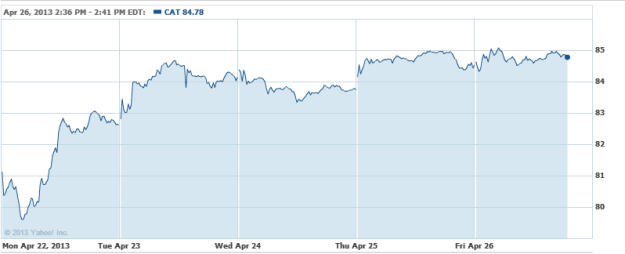 Investing Insights: Should Abercrombie & Fitch Be In Your Portfolio?