Disney's Monsters University Stays Number One and 2 Other Dow Movers to Watch
The Walt Disney Company (NYSE:DIS): Current price $63.67
For the second straight weekend, Monsters University kept its number-one rank in American and Canadian theaters, while taking in $46.2 million in sales for Disney's Pixar studio. Monsters University is a a prequel to the 2001 hit Monsters Inc., and adds to the series of popular movies from Pixar. Disney acquired the studio in 2006 for $7.01 billion, as part of a plan to produce fewer, higher-profile movies that are likely to return a profit. The company has since fixated that strategy with the purchase of Marvel Entertainment, producer of The Avengers, and Iron Man films, and Lucasfilm, maker of the Star Wars movies.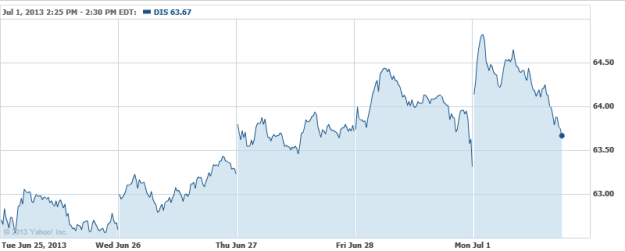 Hewlett-Packard Co. (NYSE:HPQ): Current price $24.95
HP's Enterprise Services division was recently awarded a contract from the Department of the Navy. The contract, called Next Generation Enterprise Network, is worth $3.45 billion and contains five one-year extendable options. Pursuant to the contract, HP will be responsible for supplying a broad range of information tech services and support to the Navy's communications network that connects 8 million users. To conclude the contract, Hewlett-Packard will get support from AT&T, IBM Corp., Lockheed Martin  and Northrop Grumman Corp. The recent arrangement is basically an extension of a contract initiated in 2000.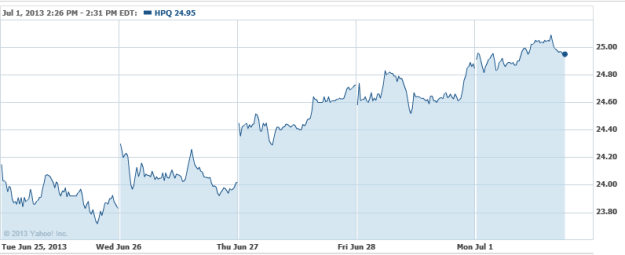 United Technologies Corp. (NYSE:UTX): Current price $94.77
On Friday, UTC Aerospace Systems celebrated the grand opening of its corporate headquarters on West Tyvola Road in Charlotte. During the ceremony, the UTX division announced a commitment of $250,000 to Discovery Place's new professional development program for educators of technology, science, engineering and math . The gift was first made public at an event at Discovery Place in uptown Charlotte to announce the creation of the Center.