Distaster Strikes Chevron-Operated Texas Pipeline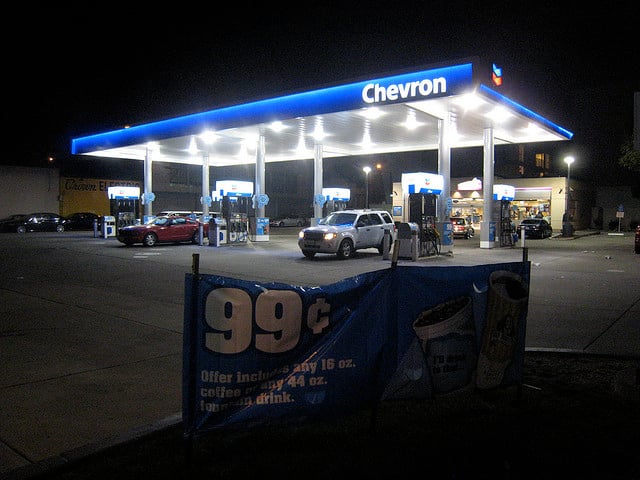 Near the small North Texas city of Milford, located approximately 50 miles south of Dallas, a 10-inch natural gas pipeline operated by Chevron (NYSE:CVX) exploded Thursday morning, sending flames and a plume of ominously dark smoke so high into the sky that it was visible for thousands of miles. In fact, the smoke plume was so large that it showed up on National Weather Service radar. Video footage obtained by helicopter showed a massive cone-shaped blaze that had engulfed what local media described as a drilling rig.
Milford Explosion UPDATE ~ All Milford ISD students have been evacuated to Italy ISD pic.twitter.com/yfNehDINrM

— FOX 4 NEWS (@FOX4) November 14, 2013
The disaster forced an evacuation of the 728-person town, but Milford Fire Department Chief Mark Jackson told the Los Angeles Times in a phone interview that no injuries had yet been reported. Rather than actively fight the fire, Jackson said that Chevron officials had decided to let the fire burn out, which could take as long as 24 hours, as Ellis County Sheriff's Office told the Dallas CBS affiliate.
While another 14-inch pipeline runs alongside the line that exploded, situated only a few feet away, Tom Hemrick, director of Hill County Emergency Management, told KTVT-TV in Dallas that the gas flow would not be halted because stopping it would only increase the risk of a second explosion. "It is still flowing because the flow cools the line," he said. "The smoke is going to be the issue — people breathing it in. If the wind shifted, people with breathing problems, it's just not good to breathe that stuff in," he said. Hemrick said he was unaware exactly how many people had been evacuated.
Chevron issued the following statement regarding the explosion. "At approximately 9.30 a.m. (CST) today, there was an incident at a Chevron pipeline near Milford, Texas. Chevron has initiated its emergency response procedures and is currently responding to the incident. Chevron's primary concern at this point is to ensure the safety of its employees and the surrounding community. As soon as there are further details, they will be made available."
Chevron did not identify the line that exploded, but a state regulator said it was part of the West Texas LBP Pipeline Limited Partnership, a 2,295 mile common-carrier conduit that transports natural gas liquids from New Mexico and Texas to Mont Belvieu, Texas, for processing. Chevron owns 80 percent of the pipeline system and the remaining 20 percent is owned by Atlas Pipeline Partners (NYSE:APL). That West Texas LPG line is an interstate pipeline falls under the jurisdiction of the Pipeline and Hazardous Safety Administration, which sent inspectors to the scene, as Gaye McElwain, a spokeswoman for the Texas Railroad Commission, told the Times.
Inspectors from the United States Environmental Protection Agency were also on the scene. "EPA Emergency Response personnel are assisting with the response efforts to determine environmental effects of the explosion and provide additional support as requested," Joe Hubbard, a spokesperson for the EPA regional office in Dallas, told the publication.
The explosion followed less than a year after a massive blast at a fertilizer plant about 30 miles south in West, Texas. The April disaster killed 15 people, including a dozen volunteer fireman, and injured more than 160 people. Unlike West, where some of the city's 2,800 residents lived close to the fertilizer plant, housed in an apartment complex and a nursing home, the Milford explosion occurred in a rural area.
Also, some of the emergency responders that were killed in West rushed in to fight the fire that broke out after the blast, while in Milford, responders stayed back from the fire. "Most of the people here on this scene were at West. It's amazing how smooth the response has been," he said, "We learned a lot from West. It went by the book, everybody was accountable and we knew who was here. Right now it's really just a waiting game." Thursday's explosion was caused by a construction crew that accidentally drilled into the pipeline.
Follow Meghan on Twitter @MFoley_WSCS
Don't Miss: New EPA Standards Provide Opportunity for Midwest Energy Emissions Corp.