Do Americans Believe the Housing Crisis is Really Over?
The housing recovery story has been gaining momentum in recent months. With the intervention of the Federal Reserve, home prices are up and interest rates are down near historic lows. However, many Americans remain skeptical about the real estate market, as memories of the crash are still fresh.
There is clearly a difference in the type of recovery taking place on Wall Street and Main Street. Stocks have recaptured their previous highs made more than five years ago, but home prices are still well below their glory days of the housing bubble. As a result, almost 60 percent of Americans believe the nation is still in the midst of a housing crisis, according to a new report sponsored by the MacArthur Foundation. Nearly 20 percent of those polled said the worst is yet to come.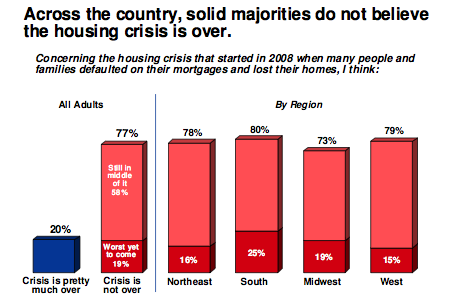 As the chart above shows, the view on housing was relatively stable across all regions. Eighty percent of Southerns said the nation is in the middle of the housing crisis, the highest of any region. The Midwest came in at the lowest with 73 percent. Overall, only 20 percent of Americans believe the crisis is pretty much over.
Americans feel better about their own situation…
Amid low inventory levels and a very accommodative monetary policy at the central bank, hopes of a recovery are appearing. CoreLogic recently reported that U.S. home prices jumped 10.2 percent in February, compared to a year earlier. This was the largest gain since March 2006. Furthermore, Trulia (NYSE:TRLA) reported that asking home prices increased 7.2 percent year-over-year last month. Housing-related stocks such as Home Depot (NYSE:HD) and Lowe's (NYSE:L) have also rallied strongly over the past year as more owners feel confident about spending money on home improvements.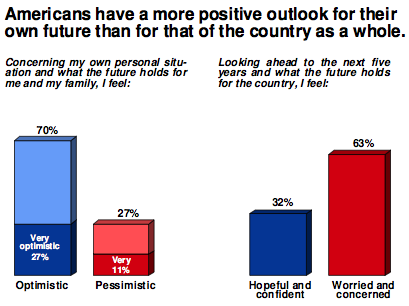 The rebound has led to a more upbeat view on how Americans view their own personal futures. The MacArthur Foundation report finds that seven in 10 Americans are optimistic about their own future, while only 27 percent say they are pessimistic. In comparison, 63 percent say they are worried about what the next five years hold for the country. The budget deficit and jobs are leading concerns, but half of those polled say the housing market is a very or fairly serious problem.
The view is changing on renting vs buying…
While renting has been seen as an undesirable choice in the past, it is gaining momentum. In the wake of the housing crisis, 57 percent of Americans say buying a home has become less appealing, compared to 27 percent saying it has become more appealing. On the other hand, 54 percent of Americans say renting has become more appealing, with only 24 percent saying it is less appealing.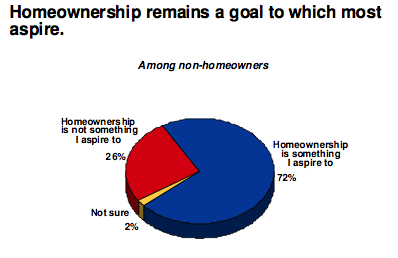 Remarkably, home ownership is still a goal for many renters. Seventy-two percent of renters say they aspire to own a home one day, while only 26 percent say that home ownership is not a desire. Eighty-four percent of renters under 40 years old say they aspire to own a home.
Don't Miss: Will Casual-Dining Still Thrive in America?