Do Americans Still Love Cars?
The Great Recession changed driving habits across the nation. Due to several factors, the country's interest in cars took a backseat to other priorities. However, signs are emerging that Americans still love cars.
The recession technically began in December 2007 and ended in June 2009. This period marked a notable peak in the auto industry. In 2008, the number of light-duty vehicles maxed out at 236.4 million, compared to 233.8 million vehicles in 2011, according to a new paper by University Of Michigan researcher Michael Sivak.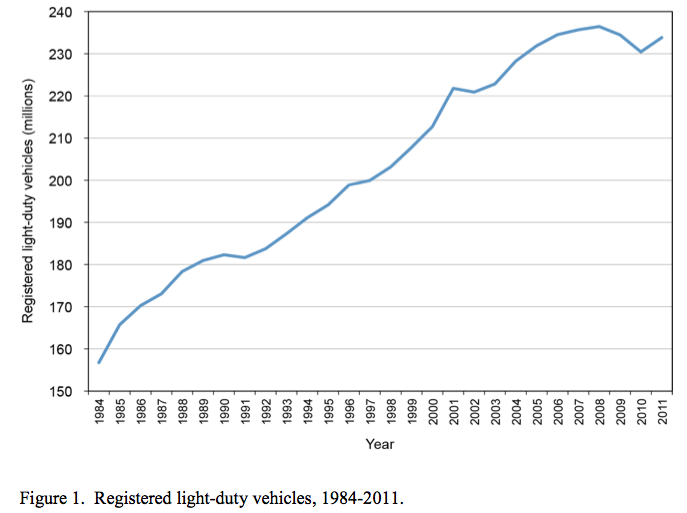 Higher unemployment levels and stagnant wages have been weighing on consumers in recent years, but the auto industry hit speed bumps before the economy changed gears. Between 2001 and 2006, the number of vehicles per person, per licensed driver, and per household all reached highs that have yet to be recaptured.
Despite the setback, Sivak believes population growth in the United States will eventually led to the number of light-duty vehicles surpassing its peak made in 2008.
Signs of a recovery in the auto industry are already appearing. Last month, domestic auto sales increased at the strongest rate in more than five years. Automakers sold 1.4 million cars and light trucks in June, up 9.2 percent from a year earlier, according to Autodata Corp. June's annualized selling pace hit nearly 16 million vehicles and is on track for its best year since 2007.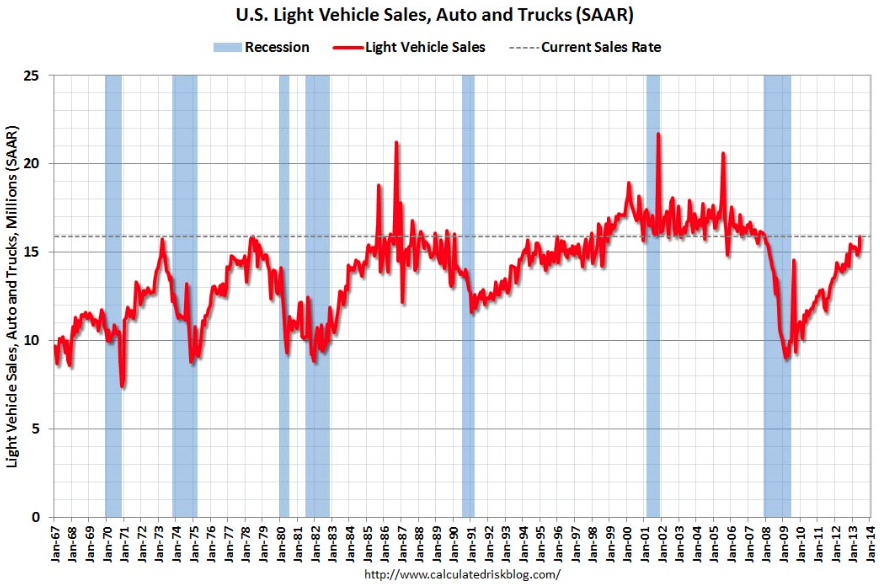 Ford Motor Co. (NYSE:F) reported its best June since 2006 as sales jumped 13 percent to 235,643 vehicles, compared to 207,759 vehicles a year earlier. F-Series sales posted a gain of 24 percent and have now climbed higher for 23 consecutive months. Sales by General Motors Co. (NYSE:GM) increased 6 percent in June from a year earlier, while Toyota Motor Corp. (NYSE:TM) and Honda Motor Co. (NYSE:HMC) both reported gains of almost 10 percent.
As the chart below shows, investors are betting on a rebound in the auto industry. Shares of Ford have surged almost 30 percent year-to-date. Toyota shares have driven 33 percent higher this year. Meanwhile, GM has increased 21 percent. Shares of Honda have lagged behind with a gain of only 2 percent. In May, GM shares climbed above their initial public offering price of $33 for the first time in more than two years.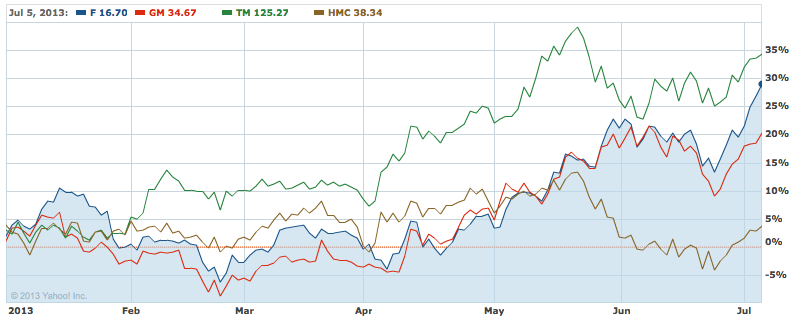 Billionaire investors like David Einhorn and Warren Buffett are also bullish on areas of the auto industry, as both have large positions in GM. At the end of the first quarter, Einhorn held a little more than 21 million shares of the company, while Buffett held 25 million shares.
Don't Miss: Want to Drive an SRT Viper? Hertz Says Sure.
Follow Eric on Twitter (@Mr_Eric_WSCS)