Do CEOs Believe the U.S. Economy Will Soon Pick Up Steam?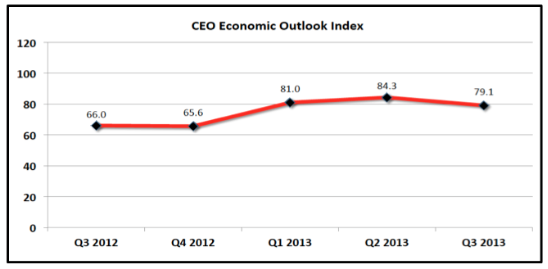 There is no doubt that the U.S. economy is still struggling to make a convincing recovery from the financial crisis. Asset prices have been pushed higher by the Federal Reserve while the labor market is failing to keep pace with population growth. Adding insult to injury, the latest report on sentiment from chief executive officers predicts a decline for certain areas of the economy over the next six months.
The Business Roundtable, which is an association of chief executive officers of leading U.S. companies, recently published its third-quarter CEO Economic Outlook Survey. The survey was completed between August 16 and September 6, and provides a forward-looking view on the economy.
As the chart above shows, the economic index for the survey fell to 79.1 in the current quarter, compared to 84.3 in the prior quarter — the best reading over the past year. The current long-term average is about 79.3.
In terms of the overall economy, the group expects real gross domestic product to grow at a 2.2 percent annual rate, unchanged from the previous report. Jim McNerney, chairman of the Business Roundtable and chief executive officer of The Boeing Company (NYSE:BA), explains in the following press release.
"CEO expectations for the next six months remain essentially the same with some downside bias. Expectations for sales and capital investment both declined modestly in this survey. While U.S. business performance remains strong, as evidenced by robust recovery in the automotive sector, business leaders still see headwinds preventing a more sustained, robust recovery."
In addition to Boeing, other members of the Business Roundtable include executives from companies such as Bank of America (NYSE:BAC), Microsoft (NASDAQ:MSFT), Sprint Nextel (NYSE:S), and General Electric (NYSE:GE).
The survey's key findings for the second and third quarter are shown below. Despite the unemployment rate recently edging lower, the percentage of CEOs saying they plan to increase employment remained unchanged at 32 percent, while those saying they plan to decrease employment only ticked 2 percent lower to 24 percent. Seventy-one percent of CEOs expect their sales to increase in the next six months, down significantly from 78 percent in the previous survey.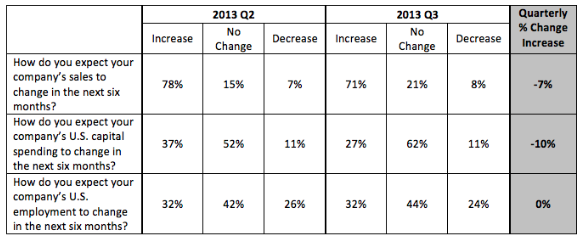 This quarter, the survey included an additional question regarding the political sideshow taking place in Washington D.C. In fact, 50 percent of CEOs say the ongoing debate about the budget and debt ceiling is having a negative impact on their plans for hiring more employees over the next six months.
The Business Roundtable's CEO Economic Outlook Survey has been conducted quarterly since the fourth quarter of 2002. The organization represents leading U.S. companies with more than $7.3 trillion in annual revenues and nearly 16 million employees. Members account for almost a third of the total value of the U.S. stock market.
Don't Miss: 10 Signs Americans Are Still Stuck in the Great Recession
Follow Eric on Twitter @Mr_Eric_WSCS