Do Gun Manufacturers Still Love Politicians?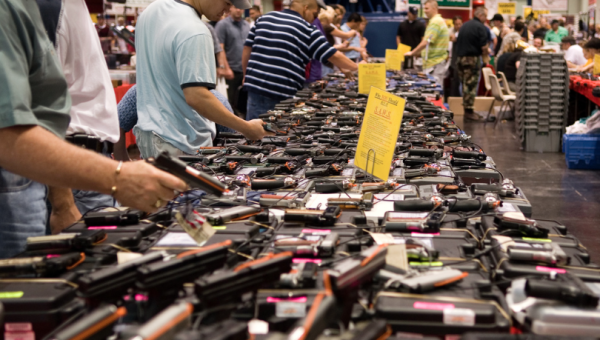 The law of unintended consequences continues to hit its mark with politicians and gun owners. A push for tighter gun control laws over the past year is still providing a boost to the industry, as the nation's second-largest publicly traded gun manufacturer reported impressive sales.
Smith & Wesson (NASDAQ:SWHC) recently announced better-than-expected quarterly financial results. For the three months ended July 30, sales for the Massachusetts-based company surged 25.8 percent to $171 million from $136 million a year earlier. Meanwhile, net income jumped to $26.5 million (40 cents per share), up nearly 50 percent from $17.8 million in the same quarter in 2012.
On average, analysts expected the gun manufacturer to earn 36 cents per share on $165 million in revenue. Smith & Wesson has not missed estimates in more than two years.
"We delivered improvements across all of our key metrics, including a meaningful increase in year-over-year sales and significant expansion of our gross margins," James Debney, Smith & Wesson's CEO, said in a statement. "Ongoing increases in our manufacturing capacity, combined with strong consumer demand for firearms, resulted in increased market share and higher sales of our most popular M&P products. Amidst that robust growth, we drove a number of significant initiatives in the quarter designed to strengthen our business and return increased value to our stockholders."
The gun industry typically receives a spark when a Democrat holds the White House, but gun and ammunition demand has surged to record highs after the tragedy in Newtown, Connecticut, sparked more debate about gun control. Wal-Mart (NYSE:WMT), the world's largest retailer, even placed a limit on ammunition sales earlier this year.
In January, President Barack Obama and Vice President Joe Biden rolled out a wide-ranging list of executive actions regarding gun control. Obama also called on Congress to ban military-style assault weapons, ban capacities of more than 10 rounds, require background checks on all gun sales, and create tougher penalties for those selling guns to people who are not legally allowed to have them.
After months of discussions and finger pointing, Congress did not answer Obama's call. A bill aimed at expanding the system of background checks failed in the Senate despite co-sponsorship from both political parties. The Senate also blocked a proposal to ban semi-automatic rifles and high-capacity ammunition magazines.
A visibly angry Obama gave a speech shortly after the Senate's decision. He said: "So all in all, this was a pretty shameful day for Washington. But this effort is not over. I want to make it clear to the American people we can still bring about meaningful changes that reduce gun violence, so long as the American people don't give up on it. Even without Congress, my administration will keep doing everything it can to protect more of our communities … but we can do more if Congress gets its act together."
Many people are making purchases ahead of any possible changes. In fact, Obama is considered by many to be the best gun salesman in history. As the chart below from Smith & Wesson shows, background checks have consistently been above year-ago levels. With the exception of 2010, the number of background checks have increased on an annual basis for the past five years.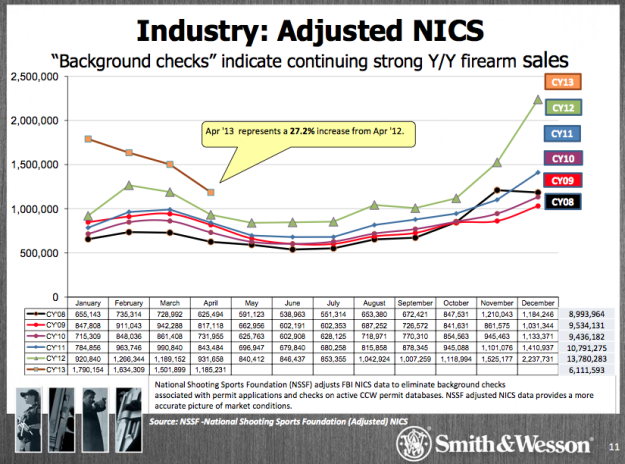 Despite the upbeat quarterly results, shares of Smith & Wesson plunged 10 percent on Friday. The company said it now expects earnings from continuing operations to come in between 20 cents and 22 cents per share for the current quarter, below Wall Street's estimate of 29 cents per share. Revenue is expected to come in at $135 million to $140 million, below analyst estimates of $143 million. On an earnings conference call, Smith & Wesson noted that expenses will be higher in the current quarter, and the company will have fewer production days than normal due to changing business management software.
Even with the pullback, shares are up more than 20 percent this year. Meanwhile, shares of Sturm Ruger & Co.(NYSE:RGR) have increased 19 percent in the year to date.
Don't Miss: 10 Big Brands That May Be Heeding Warren Buffett's Advice
Follow Eric on Twitter @Mr_Eric_WSCS