Do Investors Care About Earnings Anymore?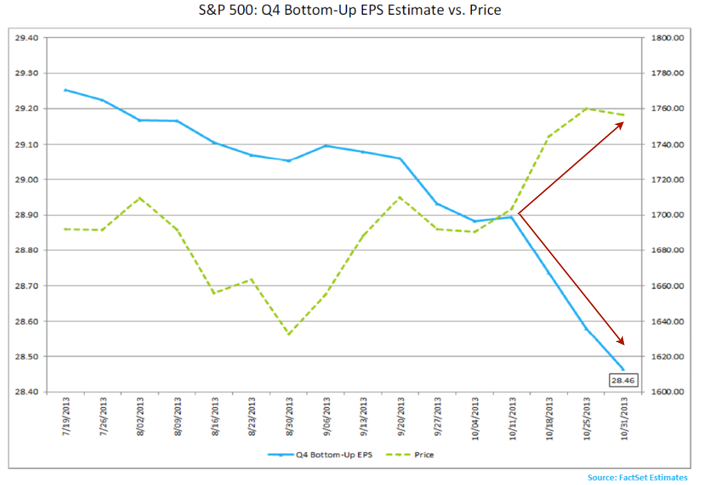 Once upon a time ago, earnings were widely considered to be the main driver of stock prices. They were also one of the most analyzed components of financial statements, as they indicated a company's profitability and long-term strength. However, today's market appears to be ignoring this tradition.
Mr. Market does not seem too concerned with the earnings outlook. In October, analysts reduced S&P 500 earnings estimates by 1.5 percent for the fourth quarter. Yet, the value of the S&P 500 gained 4.5 percent last month. This is the seventh time in the past nine quarters that earnings estimates declined and stocks climbed higher in the first month of the quarter, according to research firm FactSet. During those seven quarters, stocks have averaged a gain of 4.7 percent, while earnings have declined an average of 2.6 percent.
The earnings beat rate for the third quarter is in line with recent years, but revenue is coming in below average. FactSet explains that, "In terms of revenue, 53 percent of companies have reported sales above estimates. This percentage is below the average of 59 percent recorded over the past four years. In aggregate, companies are reporting earnings that are 1.4 percent above the mean EPS estimate. This percentage is also well below the average of +6.5 percent over the past four years."
It has been an impressive year for stocks. In the first ten months of the year, the Dow Jones Industrial Average climbed 18.6 percent, while the S&P 500 surged 23.2 percent. The S&P 500 is currently on pace for its best year since at least 2003, when the index increased 26.4 percent. In fact, stocks recently posted gains in September and October for only the fifth time in the last 30 years. That is unusual considering September is historically the weakest month. Meanwhile, the S&P 500 has never been negative year-to-date in 2013, which has only occurred twice since 1960.
Hedge fund manager David Einhorn recently noted the under-promise-over-deliver earnings strategy in a letter to clients. "When earnings are announced in October and they 'beat' the guidance set in July, everyone will celebrate with cake and ice cream. (Never mind that the earnings are actually in line with the original June predictions, or that they've lowballed guidance for next quarter — if anyone noticed that, they wouldn't be able to move to the next round by lowering the December bar, which is currently set at 13 percent growth.) As the S&P 500 index has advanced this year mostly through multiple expansion, the index is no longer cheap, particularly considering that we are now almost half a decade into an economic expansion and earnings growth is unexciting."
Don't Miss: Top 10 States Where Home Prices Are Surging
Follow Eric on Twitter @Mr_Eric_WSCS