Do Investors LUV Southwest?
The airline industry has seen plenty of turbulence over the years.  Issues regarding everything from demand to fuel expenses plague the industry.  On Friday, Southwest Airlines (NYSE:LUV) offered a glimmer of hope for the airline industry.
The no baggage fee airliner reported strong numbers for September.  The company said its total September traffic rose 6.4% to more than 7.9 billion revenue passenger miles, compared to 7.5 billion revenue passenger miles last year. Total September capacity rose 3.2% to 10.2 billion available seat miles from last year.  Furthermore, the percentage of seats filled with passengers (load factor) increased 2.3% from last year, while passenger revenue per available seat mile increased 12%.  To help keep demand strong, Southwest also rolled out holiday fare specials, with one way tickets costing only $59.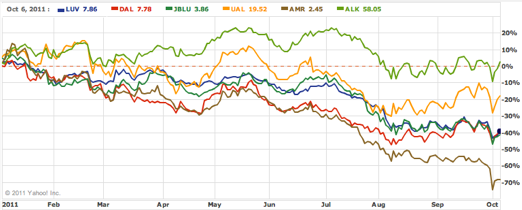 Shares of Southwest have been struggling this year to say the least.  As the chart above shows, LUV is down 40% year-to-date, and has underperformed other airliners such as United Continental Holdings (NYSE:UAL) and Alaska Air Group (NYSE:ALK).  On a positive note, LUV has been keeping pace with Delta (NYSE:DAL) and JetBlue (NASDAQ:JBLU), while outperforming  American Airlines (NYSE:AMR) this year.  Earlier this week, shares of American Airlines tumbled the most since 2003, as bankruptcy rumors swirled.
In our premium newsletter, we warn investors about companies that fail to rally on good news.  Yesterday, Southwest received a neutral initiation from Sterne Agee with a price target of $16.  However, shares remain near 52-week lows, even with the positive September traffic data reported today. For investors seeking more detailed professional analysis on investments, we invite you to try our premium service free for 14 days.
Feature Article: Occupy Wall Street and Tea Party, I Have One Name for You: Steve Jobs>>