Do Soaring Housing Prices Mean It's Bubble Time?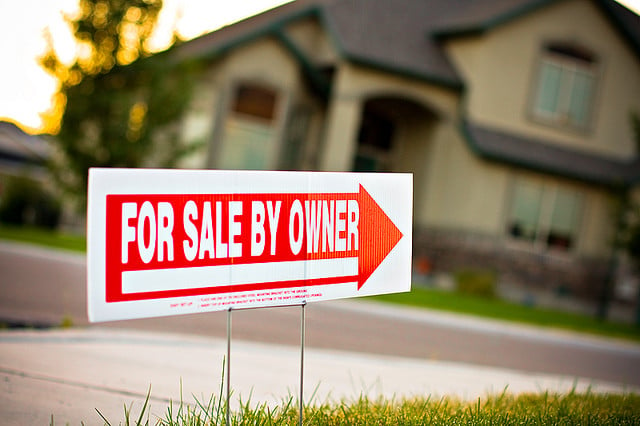 "The second and third quarters of 2013 were very good for home prices," said David M. Blitzer, chairman of the S&P Dow Jones Index Committee, which compiles the monthly reading of the S&P/Case-Shiller home price index of property prices in the 20 largest United States metropolitan regions.
At the time, August's 12.8 percent increase in property values was the greatest percentage price gain since February 2006, the last heady days of the housing bubble. But September's results surpassed the gains of the previous month. Property prices rose 13.3 percent in the 12 months through September, showing that the housing market was able to sustain progress despite the increases in borrowing costs.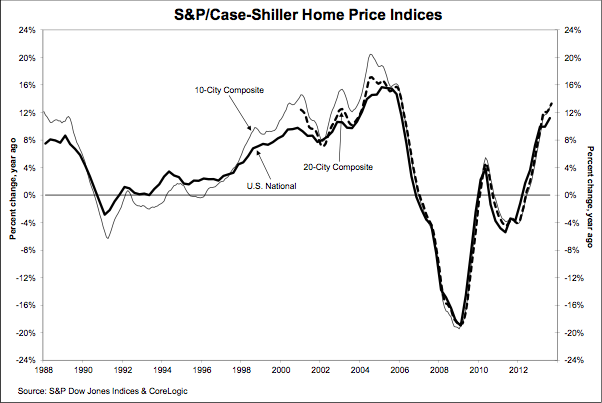 In the housing market, growing demand is continuing to boost value. "Housing demand has clearly improved this year," HSBC Securities economist Ryan Wang told Bloomberg Businessweek ahead of the housing report's Tuesday release. "The housing market has benefited from fewer foreclosures over the last year, the share of distressed housing transactions is back to pre-crisis levels, and that has helped to boost home prices in many parts of the country."
However, as in August, September's housing price data contained evidence that the market's rapid-fire gains have begun to cool. Home prices in those 20 metropolitan regions inched up only 0.7 percent from August, falling in line with a trend that began in April, when monthly home price increases peaked.
In typical fashion, the Western United States led the gains. Las Vegas experienced the largest annual increases, with home prices jumping 29.1 percent from the same month last year. In San Francisco, prices rose 25.7 percent, while prices increased 21.8 percent in Los Angeles and 20.9 percent in San Diego. As Blitzer noted, "the strong price gains in the West are sparking questions and concerns about the possibility of another bubble" in the housing market.
Fortunately, "the talk is focused on fear of a bubble, not a rush to join the party and buy," he explained. "Moreover, other data suggest a market beginning to shift to slower growth rather than one about to accelerate." Housing prices in 19 cities decelerated month-over-month from August to September, with Las Vegas and Tampa exhibiting the most weakness of any region by posting a 1.6 percentage point decline. And "existing home sales weakened in the most recent report, home construction remains far below the boom levels of six or seven years ago and interest rates are expected to be higher a year from now," according to Blitzer.
At the beginning of the year, the housing market recovery gained momentum as pent-up demand spilled over and families and investors, convinced the bottom of the market had indeed passed, began purchasing homes in earnest. With the supply of available homes low, prices rose dramatically, forcing potential homebuyers to battle over available properties. The result was red-hot markets in some regions of the United States and the concern that a new housing bubble was forming grew.
To some degree, rising mortgage rates have slowed the rate of price increases. As rising interest rates have pushed up mortgage rates, homes have become less affordable, lessening demand and, as a result, keeping prices from skyrocketing higher. September's 0.7 percent month-over-month increase was nearly a quarter of the monthly increase posted in April, when mortgage rates were near a record low. Between April and August, the average rate on a 30-year fixed-rate mortgage increased by more than a full percentage point, according to Freddie Mac, hitting a high of 4.58 percent in August.
The Federal Housing Finance Agency's interest rate survey showed that the average interest rate on conventional 30-year fixed-rate mortgages of $417,000 or less was 4.63 in September. Comparing the latest sales of detached houses with previous sales, the Case-Shiller Index is widely considered to be the most reliable measure of the housing market, but it is by no means the only gauge.
Existing home sales numbers and home construction data also tell an important part of the housing market story. Pending sales of existing homes in the United States dropped for the fifth straight month in October, providing additional evidence that growth in the housing market has slowed after an intense rebound earlier this year. The National Association of Realtors announced Monday that its pending sales index dropped 0.6 percent from September and 1.6 percent from the October 2012 level. The reasons for the decline were limited inventory and falling affordability, Lawrence Yun, the group's chief economist, said in a statement.
As for home construction, the number of U.S. residential building permits issued — an key measure of housing starts — surpassed 1 million, the Department of Commerce reported Tuesday. While that figure represented the greatest number of permits in five years and an increase of 13.9 percent from October of last year, the pace of new construction appears to be slowing.
"This was a mixed report," economists from IHS Global Insight wrote in a note seen by the Los Angeles Times."Despite strong October numbers, a three-month moving average of both single- and multifamily permits shows that construction is slowing." However, the IHS economists admitted that it was unclear why housing permits had begun to slow in recent month, although they did put forward a theory: One possible reason for the deceleration — which is delaying the housing recovery — is a lack of developed land on which to build.
Still, the housing market "continues to emerge from the financial crisis: the proportion of homes in foreclosure is declining and consumers' balance sheets are strengthening," commented Blitzer, echoing Wang's opinion. "The longer run question is whether household formation continues to recover and if home ownership will return to the peak levels seen in 2004." As of September, average home prices had returned to levels last seen in the second quarter of 2004. But for comparison, homeownership remained at 1995 levels despite that rebound.
Here's how the major U.S. indices traded on Tuesday:

Follow Meghan on Twitter @MFoley_WSCS
Don't Miss: 6 NCAA College Football Rivalry Match-Ups This Thanksgiving Weekend.