Do These Unemployment Figures Support Bernanke's Concerns?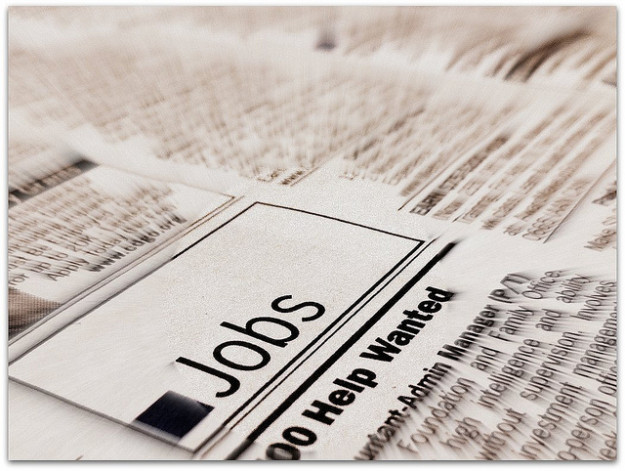 After the Labor department reported last week that the initial claims for unemployment benefits hit their highest level since last November, the labor market was put under the spotlight, with analysts viewing the increase as a warning sign. But, following the end of recession in 2009, unemployment in the United States suffered numerous setbacks that slowed recovery, and last week's spike appears to be one of them. On Thursday, government data showed that fewer Americans filed applications for unemployment benefits, an indication that the job market can sustain its recent gains despite the jump reported last week.
For the week ended May 18, jobless claims declined by 23,000 to 340,000, below analysts' expectations for a decrease of 28,000.
"We're definitely moving in the right direction," Deutsche Bank economist Carl Riccadonna told Bloomberg. "If we can get back to 330,000 or lower, that's going to be an early sign that the economy is accelerating into the second half of the year."
Because weekly figures can be volatile, economists use the four-week moving average to understand wider trends. Last week, that figure also declined, falling to 339,500, from the 340,000 reported the previous week.
Jobless claims figures are considered a good measure of layoffs and provide the first look at the employment situation for any given month. Decreasing jobless claims, and therefore layoffs, could provide the groundwork for an increase in hiring should the United States economy overcome March's federal budget cuts, which are expected to curb growth. For now, the job market is still weak, as Federal Reserve Chairman Ben Bernanke said in speech Wednesday, pointing to the historically high levels of unemployment and long-term joblessness. That is one reason why policy-makers at the central bank will continue to purchase bonds, a strategy aimed at keeping interest rates low and spurring growth.
So far this year, the two percentage-point increase in the payroll tax and $85 billion in automatic spending cuts that began on March 1 have threatened growth; economists expect that gross domestic product will slow to a 1.6 percent pace this quarter after growing at a 2.5 percent rate in the first three months of 2013.
Considering the spending cuts and January's payroll tax hike, the job market has remained fairly resilient so far this year; employers added an average of 151,000 jobs in March and April, a decrease from the 332,000 added in February but more than initial estimates. However, unemployment still lingers; the unemployment rate sits at 7.5 percent, and approximately 11.7 million people in the United States remain unemployed.
The number of people continuing to receive jobless benefits fell by 112,000 to 2.91 million in the week ended May 11, the fewest since March 2008. However, the continuing claims figure does not include the number of Americans receiving extended benefits under federal programs. Those unemployed workers who have used up their traditional benefits and are now collecting emergency and extended payments fell by approximately 15,500 to 1.78 million for the week ended May 4. As Chicago Federal Reserve President Charles Evans said in a recent speech, the job market must add 200,000 or more jobs per month for at least six months before he would characterize the labor situation as substantially improved.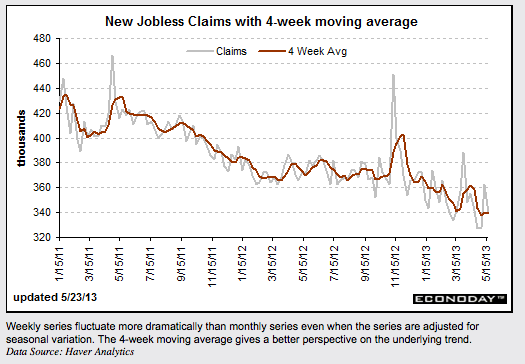 Here's how the market traded on Thursday: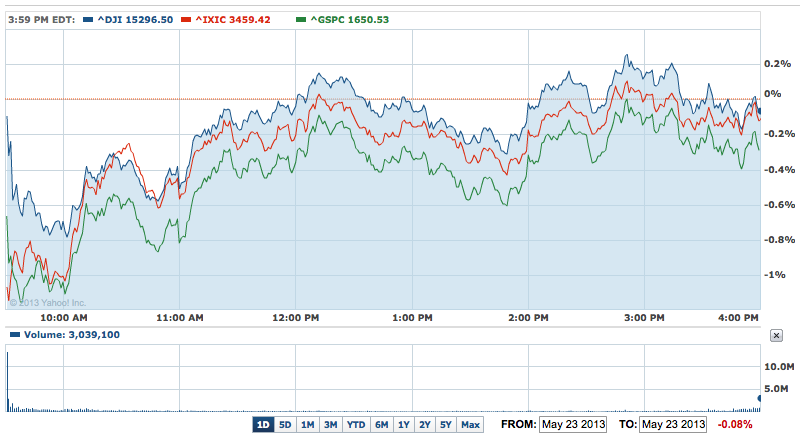 Follow Meghan on Twitter @MFoley_WSCS
Don't Miss: Is the Housing Bubble Already Making a Comeback?