Do You Believe the Housing Bubble Hype?
The National Association of Realtors announced last Wednesday that total existing-home sales — which are completed transactions that include single-family homes, town-homes, condos, and co-ops — increased 0.6 percent in April to a seasonally adjusted annual rate of 4.97 million units. This is the highest level in more than three years.
Last Thursday, the U.S. Department of Commerce reported that purchases of new homes, measured by contracts signed, increased 2.3 percent to a seasonally adjusted 454,000-unit annual pace last month, compared to the revised March rate of 444,000 units. This is the second best level since July 2008. Home sales are up 29.0 percent compared to April 2012.
Unsurprisingly, this increase in sales has led to a corresponding increase in prices. Home prices increased 1.9 percent in the first quarter of 2013, according to the latest Federal Housing Finance Agency report. This is the seventh consecutive quarterly rise in the purchase-only, seasonally-adjusted index.
The latest reading from the Standard & Poor's/Case-Shiller index showed a 10.9 percent jump in home prices in the year to March. The national composite rose by 10.2 percent over the last four quarters, and all 20 cities posted positive year-over-year growth.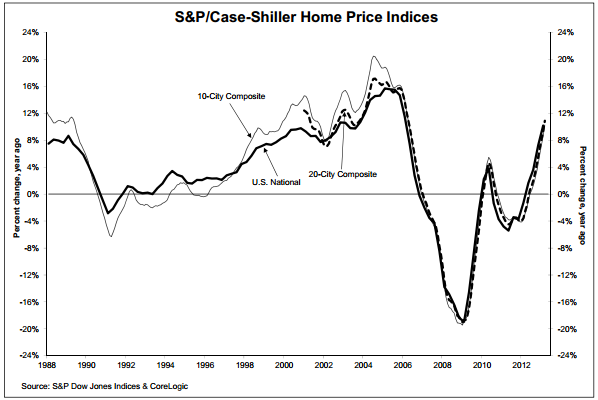 Due to the rebound in home prices, Trulia has launched a feature called Trulia Bubble Watch. The new housing market indicator tracks whether home prices are in or nearing bubble territory by measuring how home prices are valued relative to their fundamentals. It gauges the housing market across the nation by looking at 100 of the largest metro areas. The feature was launched in part to counteract reports that a new housing bubble could be growing.
According to Trulia, national home prices are still 7 percent undervalued. In comparison, the housing bubble of yesteryear saw home prices become overvalued by almost 40 percent in the first quarter of 2006. After the bubble popped, home prices became 15 percent undervalued in the fourth quarter of 2011.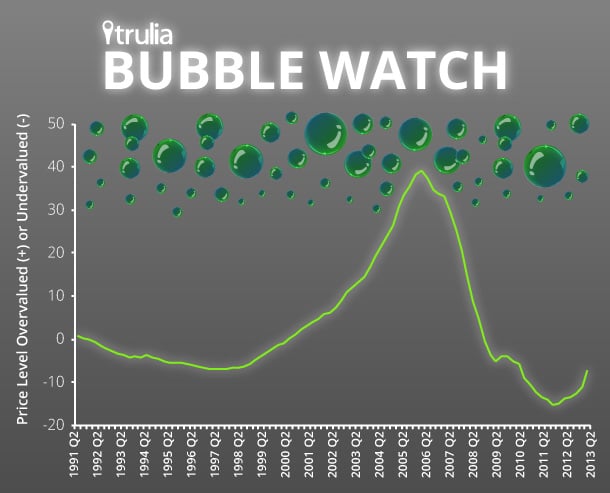 However, certain areas of the country are seeing houses become overvalued. The Trulia Bubble Watch finds that eight of the 100 largest metro areas have home prices above their fundamental value, with half of those being located in California. Topping the list is Orange County, where Trulia reports that home prices are 9 percent overvalued. This compares against 71 percent overvaluation when prices peaked locally in 2006.
Jed Kolko, chief economist at Trulia, suggests that if prices keep rising as fast as they are right now, the nation could experience another bubble within the next few years. However, he argues that home prices are unlikely to keep rising for three primary reasons:
First, tight inventory is one of the primary reasons prices are rising as fast as they are. Construction has been generally slow to recover and inventory has been slow to build. Part of the price increase can be explained by competitive bidding on a relatively limited supply of homes. As inventory expands, price increases will slow.
Second, a near-zero interest rate environment has helped drive down mortgage prices and increase buying power. Historically low interest rates have begun to edge up over the past few months and are expected to increase further, especially as the Fed looks to taper quantitative easing and eventually tighten policy.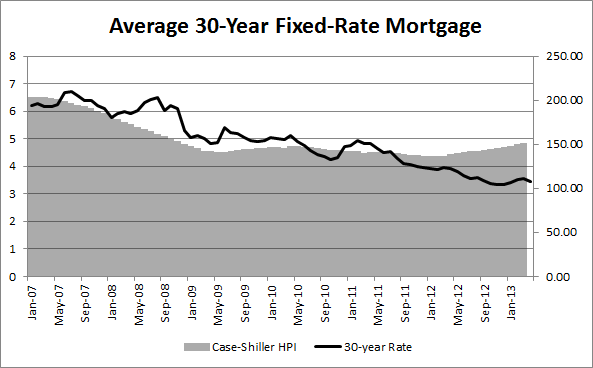 Third, Kolko argues that investor interest in housing will fade as undervalued inventory diminishes. Increasing prices will drive out investors who are uninterested in purchasing homes in overvalued markets.
Don't Miss: How Many Homes Are Still Underwater?