Dodd-Frank Tests Show BofA Can Survive Prolonged Stress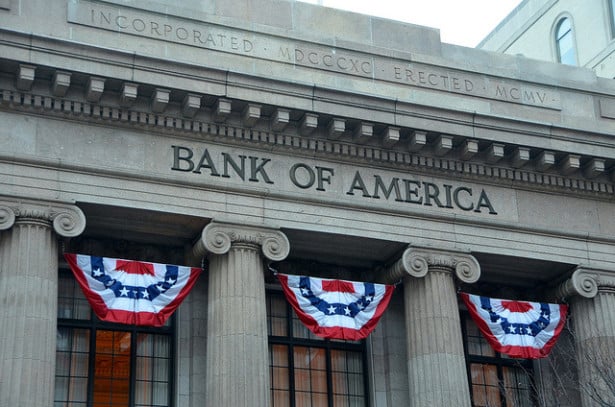 Bank of America (NYSE:BAC) is not so cautious that it could not survive another period of severe and prolonged market stress as it experienced between June 30, 2008 and December 31, 2008 — the worst of the financial crisis. In the five years that have passed since the crisis, America's largest financial institutions have been under intense legal and regulatory scrutiny. Politicians and regulators searched for a means to repair the structural problems within the United States and the international banking system in order to insure that a similar financial meltdown would never happen again.
Of course, legislation was at the forefront of those efforts. While its effectiveness has been debated, the Dodd-Frank Wall Street Reform and Consumer Protection Act, signed into law in July 2010, brought the most significant changes to financial regulation in the United States since the reforms that took place following the Great Depression. Chief among its provisions — alongside the so-called "Volcker rule," which was intended to reduce banks' ability to take excessive risks — are stress tests.
To assess the health of these companies that brought the American economy to its knees, Congress mandated that banks be subjected to annual tests to uncover any "risks to the financial stability of the United States that could arise from the material financial distress or failure, or ongoing activities, of large, interconnected financial institutions."
As one of about 34 banks with domestic assets worth more than $50 billion, Bank of America is required by Section 165(i)(2) of the Dodd-Frank Act to conduct two stress tests each year, one developed by the Federal Reserve (which is administered in January) and one developed by the bank itself. The stress tests are broken into three scenarios: baseline, adverse, and severely adverse. The firm is required to publish a summary of its results based on the severely adverse scenario.
In effect, the stress test is designed to gauge how well-prepared a financial institution is for economic calamity. This type of testing is meant to expose weaknesses before they become monumental problems. As Goldman Sachs (NYSE:GS) described it, "The internally developed, severely adverse scenario is expected to capture a company's vulnerabilities and firm-specific risks that would impact its activities and results." Therefore, all banks administered slightly different tests.
For Bank of America, the severely adverse scenario featured "the U.S. economy falling into a deep six-quarter recession followed by a sluggish recovery and accompanied by a global recession. The scenario embodies labor market dysfunction and financial crisis as key elements. The extreme declines in employment and accompanying surge in the unemployment rate capture the panic and extreme business reaction that occurred in the 2008-09 financial crisis. Paralleling that episode, it is also assumed that the financial crisis includes a housing crisis wherein rapid declines in housing prices moderate slowly in the forecast horizon as unemployment remains very elevated."
As parameters, the bank's stress test envisioned real Gross Domestic Product falling 4 percent over six quarters and the unemployment rate rising to 11.7 percent, increasing four full percentage points over eight quarters. The scenario also imagined that house prices declined 21 percent from first quarter 2013 levels without any appreciable recovery, the equity market dropped almost 60 percent, loan losses from credit cards amounted to $14.2 billion, and domestic first-lien mortgages experienced a 2.8 percent loss rate.
But still, the bank expected that it would maintain a Tier 1 common capital ratio of at least 8.4 percent during the shock, well above the 5 percent minimum established by new regulations. That figure is also well above the 6.9 percent that the bank scored during the test administered by the Federal Reserve in March. However, investors appeared little impressed; shares of Bank of America closed up just 0.28 percent on Thursday, after the results were released.
For comparison, Goldman Sachs estimated a Tier 1 common capital ratio of at least 8.9 percent, above March's 5.8 percent level, while JPMorgan Chase (NYSE:JPM), the largest U.S. bank, projected a minimum Tier 1 capital ratio of 9.6 percent. In the event of a financial downturn, Citigroup (NYSE:C), the third-largest U.S. bank, could incur losses of up to $21.2 billion over nine quarters stay above minimum regulatory capital levels. Under that scenario, the bank's Tier 1 common capital ratio would fall as low as 9.1 percent.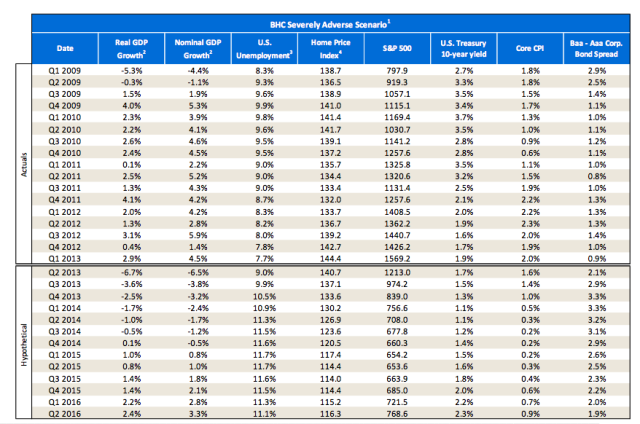 Follow Meghan on Twitter @MFoley_WSCS
Investing Insights: Does Goldman Sachs Support Higher Prices?