Does Bernanke Still Have Friends in the Central Banking World?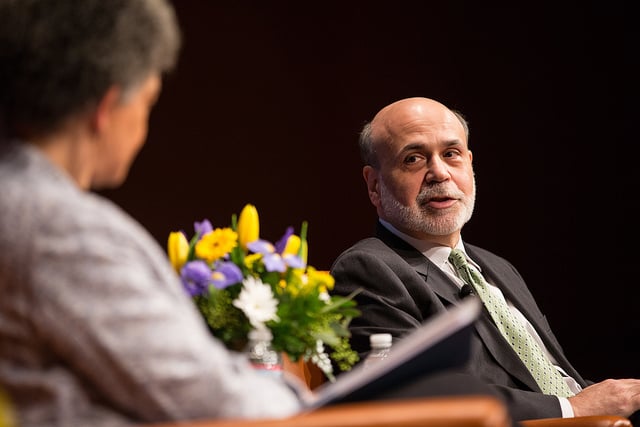 Ben Bernanke still has some friends in the financial and central banking world, it seems.
After a week during which he was unable to please anyone with his announcement to phase out quantitative easing, a few people have come to his defense.
Former European Central Bank President Jean-Claude Trichet said he thinks Bernanke is doing the right things, adding: "I think that it was appropriate for Ben Bernanke to say, 'Well, this will not last forever'…but he remained very conditional in his own explanation, so I think it was very well done. It was carefully crafted. That you have an overreaction was something that we have to live with. It tells you something about the way markets are looking at things."
Trichet's comments stand at odds with Federal Reserve Bank of St. Louis President James Bullard, who dissented during the meeting in which Bernanke was authorized to tell the public about the potential tapering and end of easing.
In an interview with the Washington Post, Bullard said Bernanke should have waited until inflation rates were more in line with what the Fed is trying to achieve.
"The main thing is that the inflation data has come in lower than expected, and growth for the year was being revised down at the meeting," Bullard said. "I thought it was the wrong kind of response given the way the data were coming in, and I think the committee should be more respectful of responding to data in a systematic way. That's what builds confidence with markets."
Confidence with markets is a tricky subject for the Fed, since the easing program has provided massive amounts of liquidity for both European and American markets. The Federal Reserve Bank of Dallas president, Richard Fisher, claimed that markets behave like feral hogs in order to scare the central bank into favorable policy. While he has consistently been opposed to quantitative easing, Fisher says that now is not the time to let markets win.
Bank of England Governor Mervyn King also came to Bernanke's side, claiming that markets had misinterpreted him.
"I think people have rather jumped the gun thinking this means an imminent return to normal levels of interest rates. It doesn't," he said. "Until markets see in place policies to bring about that return to normal economic conditions, there is no prospect for sustainable recovery and without that prospect for sustainable recovery, markets understand that it will not be sensible to return interest rates to normal levels."
Don't Miss: 6 Facts To Prove Americans' Lack of Financial Planning.