Does Coal Care About Obama's Inauguration?
Last year, the presidential campaign gave a boost to the coal sector when Governor Romney said, "I like coal." It was a much needed positive moment for the commodity, as  the coal industry has been struggling in the face of cheaper natural gas, regulatory pressure and the global slowdown. Even though President Obama was re-elected and sworn in for his second term, coal investments are showing signs of stabilization.
Next to homebuilders after the housing bubble bust, coal names have been some of the most hated stocks on Wall Street. The Market Vectors Coal ETF (NYSE:KOL) plunged 22 percent last year, while the S&P 500 gained 13 percent. Individual coal names have performed even worse, but positive outlooks are finally helping the industry find a floor.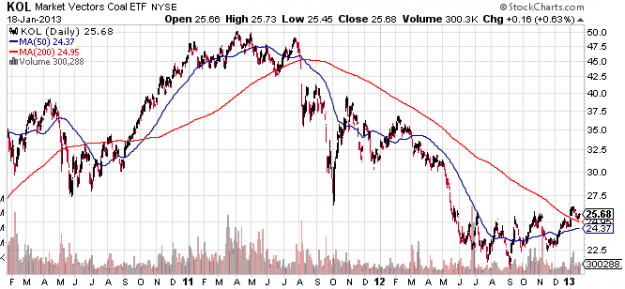 Coal consumption is expected to increase 2.6 percent annually by 2017, according to the International Energy Agency's recent Medium-Term Coal Market Report. Global coal demand could reach 4.32 billion tons of oil equivalent, threatening oil as the top energy source. In comparison, oil consumption is forecast to be 4.4 billion tons.
The United States is estimated to be the only region where demand will not increase, while growth will be the strongest in China and India…
Start 2013 better than ever by saving time and making money with your Limited Time Offer for our highly-acclaimed Stock Picker Newsletter. Click here for our fresh Feature Stock Pick now!
"In fact, the world will burn around 1.2 billion more tons of coal per year by 2017 compared to today – equivalent to the current coal consumption of Russia and the United States combined. Coal's share of the global energy mix continues to grow each year, and if no changes are made to current policies, coal will catch oil within a decade," said IEA executive director Maria van der Hoeven.
Earlier this month, the agency reported that China is the world's largest coal producer and consumer, with the region accounting for about half of the global coal consumption. Coal supplied around 70 percent of China's total energy consumption. Meanwhile, China is expected to open nearly 130 coal fired power plants by 2016.
Although coal has been out of favor, some are taking notice of the beaten-down commodity. In the third quarter of last year, Balyasny Asset Management doubled its stake in Walter Energy (NYSE:WLT), an Alabama-based coal producer, and remains one of the largest holders of the company to date, along with JPMorgan Chase and Vanguard.
What are the charts saying…
On a technical basis, Jonathan Krinsky, chief technical market analyst at Miller Tabak, explains, "As we head into 2013, I can't think of a more similar set up to the homebuilders than the coal space. These names are unloved, if not hated, with many people seeing no signs of recovery. With that said, most of the names haven't made new lows since the summer, even after Obama was re-elected. The KOL ETF bottomed in August, and is showing signs of putting in a base. Keep an eye on this as 2013's upside sleeper."
Peabody Energy (NYSE:BTU), the largest domestic coal producer by volume, is also providing hints of a rebound in coal. Gregory H. Boyce, Peabody Chairman and CEO, recently explained, "We are seeing increased U.S. gas-to-coal switching given higher natural gas prices, and global seaborne coal markets are showing signs of improving next year. While the first quarter is challenged due to a combination of factors, we expect quarter-over-quarter improvement throughout the remainder of the year."

Peabody expects global coal demand to grow 12.6 percent by 2016, with 70 percent of the new demand coming from China. As the chart above shows, Peabody, Arch Coal (NYSE:ACI) and Consol Energy (NYSE:CNX) are all showing similar patterns of stabilization, after a horrendous fall.
There are still headwinds facing the coal industry, but the price action over the past few months has been positive. In July 2012, we identified the KOL ETF as an interesting long-term value play for our premium subscribers, as support at $20-$22.50 looks very strong. Shares tested this range in late July and September, but support continues to hold.
Looking ahead, coal names look set to rally later this year. For those who would like to receive more professional analysis on key commodities, we invite you to try our premium service free for 14 days.
Investor Insight: Gold and Silver Bullion Are On the Move