Does Europe Need a New Game Plan For Economic Growth?
The eurozone seems to be stuck in recession. The Markit Eurozone Composite PMI report for March, released on Thursday morning, showed that the decline in business activity accelerated for the second month in a row and is declining at its fastest rate since November. Output has fallen for 18 of the past 19 months.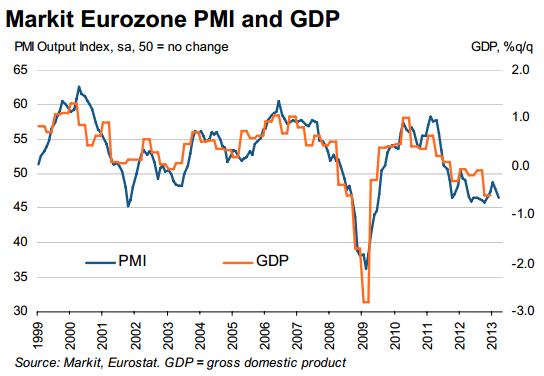 "The drop in business activity in March rounds off another quarter of decline. While the first quarter contraction is likely to have been less steep than the 0.6 percent decline seen in the final quarter of last year, the concern is that the eurozone downturn shows no signs of ending," commented Chris Williamson, chief economist at Markit.
"The recession is deepening once again as businesses report that they have become increasingly worried about the region's debt crisis and political instability," he continued. "The unresolved election in Italy was commonly cited as a key factor clouding the economic outlook in March, and the botched bail-out of Cyprus could well filter through to a further worsening of business sentiment across the region in April."
Describing the bailout of Cyprus as "botched" may be putting it lightly. Pretty much every chapter that unfolded was packed with drama, from the initial weekend reveal to the closure of the nation's second-largest bank. All along the way, the markets sustained minor shocks and eurozone financial stocks suffered losses along with unsecured depositors. At the end of the day, Cyprus will get a 10 billion euro bailout package from the Troika, and central bank funds will be used to replace depositors who either lost their money or are moving it out of the Cypriot system.
In order to guard against an all-out bank run, tight capital controls have been put in place. However, this may not be enough. As Fergus McCormick, head of sovereign ratings at DBRS, told Bloomberg: "During the current period of low-to-no growth in Europe, it is certainly possible that a run on Cypriot deposits could spread, in spite of existing or future controls on capital."
The combined effect of slow or negative economic growth and regulatory uncertainty has pushed the ECB between a rock and a hard place. The central bank announced on Thursday that it would leave its benchmark rate unchanged. A recently-updated annual inflation rate of 1.7 percent is slightly below target, while the region's unemployment rate of 12 percent is the highest it has been since 1999, when the currency bloc was formed.
The decision to keep the rate unchanged this month was unsurprising, but more and more economists are expecting Mario Draghi, President of the ECB, to begin rolling out more unconventional strategies in the near future.
Don't Miss: How Weak is Manufacturing in the Euro Zone?