Does Insider Buying and Selling in These Dow Stocks Matter?
To find out your status in society, know what people say behind your back.  To find out what insiders think about their own company, look at their stock purchases.
The five Dow Jones Industrial Average (NYSE:DIA) members listed below have seen insider transactions over the past few months.  How seriously should investors take these purchases?
Alcoa Inc. (NYSE:AA) is the world's leading producer of primary aluminum and fabricated aluminum, as well as the world's largest miner of bauxite and refiner of alumina.  On October 13, 2011, Director Tata Ratan purchased 1,897 shares at roughly $9.87 per share.  This came after purchasing 1,208 shares on July 14 at $15.49 per share.  In April, he also bought 1,303 shares at $16.07.  Considering his past performances and the size of the share purchases, we believe that investors should not consider these purchases to be a significant sign in future stock performance.  Shares are down 30% year-to-date.
Investing Insights: How Long Will Gold Miners Lag Bullion Prices?
Pfizer (NYSE:PFE) is the world's largest research-based pharmaceutical company.  Officer David Simmons purchased 2,000 shares on August 3 at $17.82 per share.  We like his purchase under $18 because it is close to our Pfizer trend line that we have discussed in the past.  As the share price pulls farther away from the trend line, investors need to increase caution.  Insider Douglas Lankler appears to be playing this trend line strategy, as he recently sold 9,000 shares at $18.90 on August 29.  Pfizer will also lose its Lipitor patent protection at the end of November.  Competitors to watch include: Bristol Myers Squibb (NYSE:BMY), Eli Lilly (NYSE:LLY), and Merck (NYSE:MRK).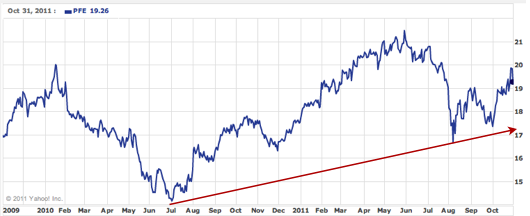 Caterpillar (NYSE:CAT) is a leader in building the world's infrastructure.  The stock has seen several insider purchases over the year by Director Jesse Greene.  Most recently, Greene purchased 1,000 shares at $90.84 on August 5.  Greene also purchased shares on May 4 and February 4 at $111.22 and $99.23, respectively.  Greene's buying habit looks to be based on dollar cost averaging, rather than specific company information.  Investors should do more research on Caterpillar as the company has strong fundamentals and a 2% dividend.  A similar dollar cost averaging approach may be appealing to investors betting on a worldwide economic recovery.
Don't Miss: Here's How to Avoid Sony and Find the Next Apple.
Johnson & Johnson (NYSE:JNJ) is an American multinational pharmaceutical, medical devices, and consumer packaged goods manufacturer founded in 1886.  If you are looking for old, boring, and safe, Johnson & Johnson is your play.  The company has a cash & equivalents hoard of nearly $15 billion, and pays a 3.6% dividend.  Director William Perez has purchased 3,000 shares of JNJ since July 28.  His most recent purchase came on Aug 8 at $61.85 per share.  Looking at the technicals, JNJ rebounds strongly when shares dip under $60.
Consumer food giant Kraft (NYSE:KFT) is one of Thursday's best performers.  In early August, Director Fredric Reynolds and Officer bought a total of 45,000 shares at prices of $33.01 and $33.43.  Yesterday, Kraft announced strong third quarter earnings.  Net income for Kraft Foods Inc. rose to $922 million (52 cents per share), compared to $754 million (43 cents per share) in the same quarter a year earlier. This marks a rise of 22.3% from the year earlier quarter.  Shares are up 14% year-to-date, and investors should strongly consider a position on a pullback to the insider price $33.
Investing Insights: Here's Why the S&P 500 is Giving Investors Déjà Vu.