Does More Consumer Credit Bode Well for the Economy?
The most recent consumer credit report was issued today, and the news bodes well for the future of the U.S. economy. Consumer credit was up 8.25 percent in May, continuing an upwards trend — a sign that spending, confidence, and the economic forecast may be looking up. This data release overlaps with a report by the Organization for Economic Development and Cooperation which found that the U.S. will likely outperform its current growth trend going forward. Specifically, revolving credit increased at a rate of 9.25 percent in May while non-revolving credit increased at a rate of 8 percent.
Total borrowing has now reached over $2.8 trillion, as American consumers are finding their feet, and looking to purchase more. The housing market has seen an increase in activity this year, with prices in some areas soaring over 20 percent, and interest rates on loans and mortgages are only just now ticking up with the boom in economic activity. The overall trend in many rates has actually been depressed since well before the recession, and the amount of credit provided to consumers has increased steadily. The following chart shows this rather fortuitous trend: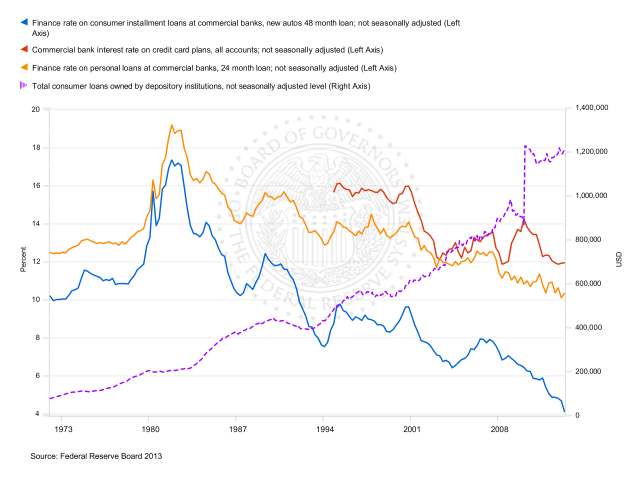 Americans boosted their spending in the first quarter of the year as well, while reducing savings to finance this increased appetite for consumption. A few variables still stand in the way of spending increasing further, specifically payroll taxes which were increased this year as a part of the budget sequester after Congress failed to reach an agreement over how best to reduce the deficit. The increase in the social security financing tax has meant less income for Americans looking to get the most out of their check.
Auto loans saw a dramatic uptick in May along with student loans, which will likely continue to be the primary driver of credit expansion in the U.S. as more and more young people turn to higher education as a path towards prosperity. However, this trend has depressed other economic activity from debt-ridden graduates, such as home purchasing, starting a family, and buying cars — all activities which contribute in a large number of ways to economic expansion. Cooper Howes, an economist at Barclays Research, told the AP that revolving credit wont see the same kind of action that student loans will.
"We expect the trends of student loan-driven expansion … and only small changes in revolving credit to continue in coming months," he said.
Still though, with credit card debt at over $847 billion dollars, its highest point since September 2010, consumer confidence may finally be heading in a direction indicative of a stronger recovery.
Don't Miss: 5 Power Players That Could Replace Ben Bernanke.