Does Netflix Have a Bright Future?
With shares of Netflix (NASDAQ:NFLX) trading around $335, is NFLX an OUTPERFORM, WAIT AND SEE, or STAY AWAY? Let's analyze the stock with the relevant sections of our CHEAT SHEET investing framework:
T = Trends for a Stock's Movement
Netflix is an Internet subscription service that streams television shows and movies. The company's subscribers can watch unlimited television shows and movies streamed over the Internet to their televisions, computers, and mobile devices. In the United States, subscribers can also receive DVDs delivered to their homes. Netflix has revolutionized the television and movie industry with its services.
Netflix is no stranger to the battle for net neutrality, the philosophy that all Internet data should be treated equally. The streaming service put out a blog post in March about why it supports the concept (besides savings for the company.) Netflix even recently went to the Federal Communications Commission about net neutrality after paying Verizon (NYSE:V) and Comcast (NASDAQ:CMCSA) to maintain its service. Net neutrality in the United States may not be dead, but it is certainly on life support. A court ruling earlier this year decided that it is not a violation to charge for higher speeds and greater data usage. In the United States, the Internet has traditionally been available for one access rate — it didn't matter if the user used the Internet to check his or her email once a month or if he or she used the Internet for more than 12 hours a day.
Either way, the user would pay the same fee. The FCC's Open Internet rules helped sustain this system. Then, a federal appeals court struck down several provisions of these Open Internet policies, opening the door to an Internet service cost structure similar to cell phone data. Some services have even begun to advertise for this fast lane of the Internet. Companies on the side of this new policy are service providers like Verizon and Comcast. Netflix, Google (NASDAQ:GOOG), and Yahoo (NASDAQ:YHOO) are among the companies trying to prevent net neutrality from becoming obsolete. These technology firms deal with large amounts of data, making the loss of net neutrality expensive for them in addition to their customers. While Netflix has been a particularly vocal advocate for net neutrality, Google has been an ally in this fight through its Internet Association, which put out a statement regarding net neutrality in late April.
T = Technicals on the Stock Chart Are Mixed
Netflix stock has been exploding higher in the last couple of years. However, the stock is currently trading sideways and may need time to stabilize. Analyzing the price trend and its strength can be done using key simple moving averages. What are the key moving averages? The 50-day (pink), 100-day (blue), and 200-day (yellow) simple moving averages. As seen in the daily price chart below, Netflix is trading below its rising key averages which signal neutral to bearish price action in the near-term.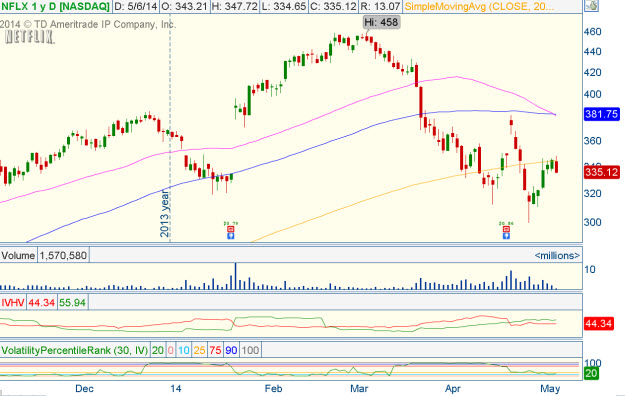 (Source: Thinkorswim)
Taking a look at the implied volatility (red) and implied volatility skew levels of Netflix options may help determine if investors are bullish, neutral, or bearish.
| | | | |
| --- | --- | --- | --- |
| | Implied Volatility (IV) | 30-Day IV Percentile | 90-Day IV Percentile |
| Netflix Options | 44.34% | 20% | 18% |
What does this mean? This means that investors or traders are buying a minimal amount of call and put options contracts, as compared to the last 30 and 90 trading days.
| | | |
| --- | --- | --- |
| | Put IV Skew | Call IV Skew |
| June Options | Steep | Average |
| July Options | Steep | Average |
As of today, there is an average demand from call buyers or sellers and high demand by put buyers or low demand by put sellers, all neutral to bearish over the next two months. To summarize, investors are buying a minimal amount of call and put option contracts and are leaning neutral to bearish over the next two months.
On the next page, let's take a look at the earnings and revenue growth rates and the conclusion.
E = Earnings Are Increasing Quarter-Over-Quarter
Rising stock prices are often strongly correlated with rising earnings and revenue growth rates. Also, the last four quarterly earnings announcement reactions help gauge investor sentiment on Netflix's stock. What do the last four quarterly earnings and revenue growth (Y-O-Y) figures for Netflix look like and more importantly, how did the markets like these numbers?
| | | | | |
| --- | --- | --- | --- | --- |
| | 2014 Q1 | 2013 Q4 | 2013 Q3 | 2013 Q2 |
| Earnings Growth (Y-O-Y) | 1,620.00% | 491.17% | 300% | 345.45% |
| Revenue Growth (Y-O-Y) | 24.02% | 24.31% | 22.2% | 20.23% |
| Earnings Reaction | 7.0% | 16.47% | -9.14% | -4.46% |
Netflix has seen increasing earnings and revenue figures over the last four quarters. From these numbers, the markets have been pleased with Netflix's recent earnings announcements.
P = Average Relative Performance Versus Peers and Sector
How has Netflix stock done relative to its peers, Amazon (NASDAQ:AMZN), Comcast (NASDAQ:CMCSA), Outerwall (NASDAQ:OUTR), and sector?
| | | | | | |
| --- | --- | --- | --- | --- | --- |
| | Netflix | Amazon | Comcast | Outerwall | Sector |
| Year-to-Date Return | -8.26% | -23.80% | 0.11% | 3.97% | -5.99% |
Netflix has been an average performer, year-to-date.
Conclusion
Netflix is a streaming service that provides video entertainment to consumers in the United States. Netflix is continuing to fight for net neutrality. The stock has been exploding higher, but is currently trading sideways. Over the last four quarters, earnings and revenues have been rising, which has left investors pleased. Relative to its peers and sector, Netflix has been an average year-to-date performer. WAIT AND SEE what Netflix does this quarter.
Using a solid investing framework such as this can help improve your stock-picking skills. Don't waste another minute — click here and get our CHEAT SHEET stock picks now.
More From Wall St. Cheat Sheet: