Does Poor Jobs Data Mean More Stimulus Spending?
Speaking at the Economic Club of New York on March 25, William Dudley, president and CEO of the New York Federal Reserve, provided a blunt — and seemingly prescient — assessment of labor market conditions.
"So how are we doing relative to our objective of a substantial improvement in the labor market outlook?" Dudley asked rhetorically in his speech, referring to the Fed's decision to publicly tie monetary strategy to the unemployment rate.
Supplying an answer, he continued: "Since we provided additional stimulus in September there has been some improvement in labor market conditions. The unemployment rate is modestly lower and private non-farm payroll growth a bit higher than earlier in 2012, which is certainly welcome."
Specifically, non-farm payroll employment increased by an upwardly-revised 268,000 in February, well above the average rate of 197,000 for the past six months. This lowered the U-3 unemployment rate from 7.9 to 7.7 percent.
"However, other important indicators including the employment-to-population ratio and job-finding rates are essentially unchanged," Dudley added. "This suggests that the labor market is far from healthy"…
There's an ironic bit of foresight in Dudley's speech. February's high rate of payroll growth was championed by optimists as a sign that labor market conditions were improving. However, Dudley expressed doubt that, not only is the labor market far from healthy, but since Fed policy is "based on the outlook for the labor market, not the level of employment or unemployment today. In this context I note that the recent improvement in payroll employment growth, which gets much of the attention, is out-sized relative to the growth rate of economic activity that supports it."
Strong payroll growth is nice, but it's not the only thing that people should be looking at. As if to demonstrate his point, March's payroll growth fell way short of expectations at just 88,000. This supports Dudley's claims that preceding payroll growth was not reflective of real labor market conditions, and shouldn't be used to diagnose the economy.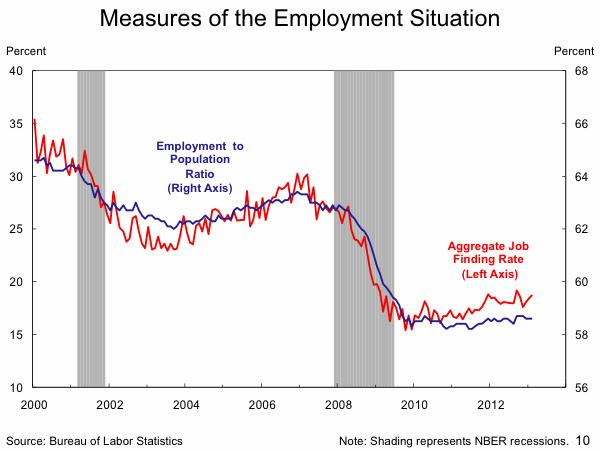 The data comes just as Spring is getting on the way, which is significant in the scheme of quantitative easing. For each of the past three years, the government has apparently interpreted warmer weather as a sign that economic conditions are improving, and made preparations to cut spending and pursue an exit strategy.
More spending would invariably be pushed later in the year as conditions failed to actually improve. However, this year observers are expecting the Fed to identify the pattern and continue purchasing bonds at a rate of $85 billion per month.
In a speech on April 5, just ahead of the most recent labor market report, Eric Rosengren, president and CEO of the Boston Federal Reserve bank, said that "continued accommodative policy, such as continuing our asset purchase program through this year, is an appropriate response to labor market scarring."
Rosengren and Dudley are both currently FOMC voting members who have encouraged the Fed to keep the easy-money policy in place at least through the end of the year.
Don't Miss: Are the Markets Staring at a Massive Plunge?