Does the Bond Market Resemble a Ponzi Scheme?
A Ponzi scheme is an investing scam promising a very high rate of return that is too good to be true. Charles Ponzi, an Italian con artist, became infamous for the scheme by paying early investors with money from later investors. The game of musical chairs can continue as long as new participants join, but the fraud eventually comes to an end. In today's economy, there is at least one asset manager that believes the Treasury market resembles a Ponzi scheme.
Scott Minerd, global chief investment officer at Guggenheim Partner, recently reminded clients that many investors are ignoring fundamentals and purchasing bonds purely on the belief they can sell them tomorrow for more than they paid today. This is being accomplished through massive intervention by the nation's central bank.
Minerd explains: "The U.S. Treasuries market could now be described as a Ponzi market. The only reason investors would buy Treasuries today is that they expect the Federal Reserve will buy them at higher prices in the future. This reasoning will come unstuck, however, once the Fed curtails its asset purchase program. We do not know when the Fed will taper QE, but the longer its expansionary policy continues, the more volatility-inducing pressure will build. That means stock and bond markets appear to be in for a rough ride over the next six months or so."
The Federal Reserve is currently purchasing $85 billion in bonds each month, known as quantitative easing. It involves buying $45 billion in Treasuries and $40 billion in mortgage-backed securities. The central bank has pushed interest rates to all-time lows in an effort to stimulate the economy and create a wealth effect. While these policies have been present for several years, chatter is increasing about when the Federal Reserve will finally slow or "taper" its bond purchases.
Last month, the latest Federal Open Market Committee minutes stated: "A number of participants expressed willingness to adjust the flow of purchases downward as early as the June meeting if the economic information received by that time showed evidence of sufficiently strong and sustained growth; however, views differed about what evidence would be necessary and the likelihood of that outcome."
The Federal Reserve concludes its two-day policy meeting this Wednesday, and Chairman Ben Bernanke will hold a press conference afterwards. A change in policy is not widely anticipated at this meeting, but the recent jawboning by the central bank has led some to believe that a reduction — temporary or not — in bond purchases will occur later this year.
CNNMoney recently polled 39 economists and investment strategists for their predictions about the Federal Reserve's next major move. Almost two-thirds of the people do not think the central bank will slow its bond-buying before this December. The rest believe a change could come earlier at the September or October meeting. Another survey by USA Today finds that seven of 10 economists predict the Federal Reserve will begin scaling back this year, with the majority of that group saying the first move will occur by early fall.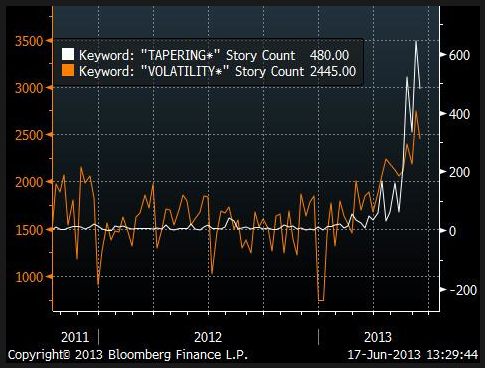 Financial markets hate uncertainty, and it appears that Minerd's prediction of a rough ride is playing out in the form of volatility. The yield on a 10-year Treasury note reached 2.29 percent last week, its highest level in 14 months. Meanwhile the yield on the 30-year Treasury climbed to 3.33 percent. Minerd believes the 10-year yield would be roughly 150 basis points higher than it is today if the "market was not being distorted by Ponzi (uneconomic) buying."
Even stocks are showing more signs of unpredictability. All three major U.S. indices finished last week in the red, while the volatility index closed at its highest reading of the year. The Dow Jones Industrial Average has made triple-digit moves over the past four trading days, and is on pace to extend the streak.
Don't Miss: 5 Dividend Stocks Approved By Warren Buffett
Follow Eric on Twitter (@Mr_Eric_WSCS)