Does This Commerce Department Report Bode Well for Q1 GDP Growth?
The Commerce Department's monthly report on business inventories showed that a slow pace of warehouse restocking weighed down fourth-quarter economic activity. On Wednesday, the department said that manufacturers' inventories and trade inventories, adjusted for seasonal variations but not for price change, grew only 0.1 percent in December, making a slight gain with the help of increases in trade sales and manufacturers' shipments.
December's end-of-month inventory level of $1.62 trillion missed the 0.3 percent increase expected by analysts polled by Thomson Reuters, and it was below the 0.2 percent gain made in November.
Business inventories are a measure of the dollar amount of inventories held by manufacturers, wholesalers, and retailers. Rising inventories can be an indication that businesses are optimistic that sales will grow in the next few months. But even more importantly, inventory is an important statistic for economists to track because it represents a key component of gross domestic product…
While December's business inventory growth missed analysts' expectations, it was pretty much in line with the prediction made by the United States government in its advanced estimate of fourth-quarter gross domestic product published last month. At the end of January, advance figures released by the Commerce Department's Bureau of Economic Analysis revealed that the deepest cuts to the defense spending in 40 years, fewer exports, and low growth in business stockpiles, had caused the U.S. economy to unexpectedly contract by 0.1 percent from October through December.
However, because the trade deficit was not as large as the government calculated in its advance estimate of GDP, and core retail sales in November and December were higher than previously predicted, the economic situation is not as grim as initially feared. When the government publishes its second growth estimate later this month, the measure of economic output will likely be revised higher.
Business sales, which combine trade sales and manufacturers' shipments, were strong, and offset the lower-than-expected inventory results. For the month of December, sales rose to $1.27 trillion, an increase of 0.3 percent from the previous month. This figure produced a favorable inventories-to-sales ratio. The level of inventories in relation to the magnitude of sales is another important economic indicator, as it shows the near-term direction of production activity…
The ratio dropped on a month-over-month basis, but it did increase year over year. December's inventory-to-sales ratio declined from 1.28 to 1.27, meaning that it will take 1.27 months for businesses to clear their shelves of current inventory. This bodes well for first-quarter GDP growth as it shows evidence of more consumer activity.
In comparison, the Commerce Department reported a ratio of 1.26 in December of 2011.

(Source: U.S. Department of Commerce)
Here's how the 3 major stock indices have traded over the past week: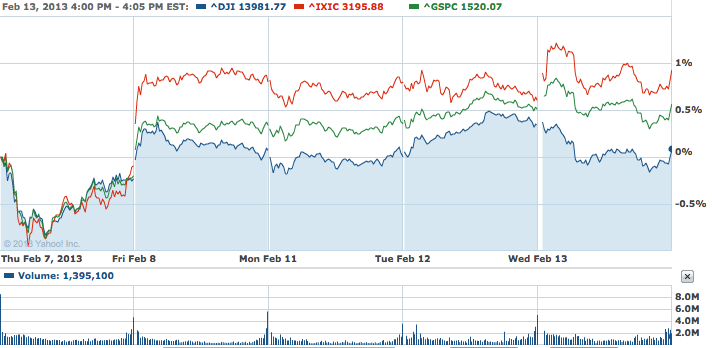 Don't Miss: Here's What January's Retail Sales Say About the Economy.