Does This Data Prove the Housing Market Can Sustain Growth?
Even if it comes with certain caveats — such as low interest rates and inventory levels — the recovery of the housing market has been one of the biggest economic stories of the year. During July, prices for homes in the United States rose by their fastest pace in more than seven years, according to to the Standard & Poor's/Case-Shiller home price index. Prices in 20 major cities increased 12.4 percent during the month when compared against the same month last year.
The increase in prices has come as more buyers are picking over a shrinking supply of available homes. Inventories have decreased because fewer properties are selling out of foreclosure and the number of potential home buyers increased early in the year because mortgage rates remained near record lows until May, which allowed consumers to qualify for slightly more debt without increasing their monthly mortgage payments significantly.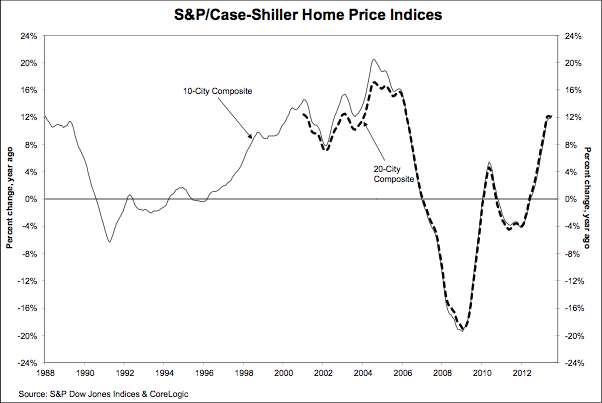 In total, home prices have advanced 21.2 percent since March 2012 when prices bottomed out after tumbling for months, although they are still 21.3 percent below their June 2006 peak. Prices jumped by the largest percentages in many of the Western and Southwestern housing markets that experienced the greatest declines after the housing bubble burst. Prices have increased 27.5 percent in Las Vegas over the past year, 24.8 percent in San Francisco, and 20.8 percent in Los Angeles.
But the data contained in the Case-Shiller index also indicates that a slowdown may be around the corner. While prices rose in all 20 cities at their fastest pace in more than seven years, the pace at which prices increased slowed in 15 of those cities. Because mortgage rates have increased by more than one percentage point since May, new mortgage applications declined throughout July.
However, that is not necessarily a bad sign. "The slowing in monthly gains is not a nail in the recovery's coffin," Bill Banfield, director of capital markets at Quicken Loans, told The Wall Street Journal. "In fact, it shows a normalizing of the market and that this growth can be sustained."
"Following the increase in mortgage rates beginning last May, applications for mortgages have dropped, suggesting that rising interest rates are affecting housing," explained Chairman of the Index Committee at S&P Dow Jones Indices, David Blitzer, in the Tuesday press release that accompanied the data. In general, every one percentage point increase makes homes approximately 10 percent more expensive.
"The Fed's announcement last week that QE3 bond buying will continue for the time being may have only a limited, though favorable, impact on housing," he added. Home prices rose just 1.8 percent from June to July, a slower rate than the month-over-month increases recorded in the previous three months.
The slowing rate of growth was in keeping with a generally trend. Housing prices tend to rise the fastest during the spring before peaking in June. Furthermore, the 1.8 percent gain was still the biggest June-to-July increase since the 20-city index was first measured in 2000.
Increasing housing prices mean problems for home sellers as well. Builders have aggressively increased prices over the past year, but with mortgage rates rising, there is now little room for sellers to keep asking home-buyers to pay more. Increasing mortgage rates have been "almost like a red light on the frantic price inflation," Ivy Zelman, chief executive of the advisory firm Zelman & Associates, told the Journal. "I hear more often now from builders, 'We pushed prices too far,'" she said. "Consumers got sticker shock."
The housing market is analyzed not only for its impact on jobs, homebuilders, and the quality of life of Americans, but because of its impact on the broader economy. Currently, economists see two very different attitudes in consumers. Low- and middle-income earners may be troubled by the 2-percent increase in the payroll tax and higher prices, but higher-wage earners and homeowners are finding themselves in a better position to increase their outlays.
Yet, even with this dichotomy, there is a general trend — incomes and wages are stagnating. As data from the Department of Commerce's Census Bureau shows, on an annual basis, households are not only earning less than they did before the recession, but less than they did more than two decades ago. Given these realities, the surging housing market may seem counter-intuitive, but low-interest rates, not strengthening incomes, that can be thanked. Those Americans who are buying big-ticket items, like automobiles and homes, are using credit.
Often, discussions regarding the recovery in the housing market are liberally sprinkled with excitment, and it is true that increasing housing prices have given homeowners more equity and boosted the economy. Yet, there are other sides to the story. "While emerging strength in the housing and automotive sectors is a long-term positive, the near-term spending on these big-ticket items is crowding out other spending particularly in today's environment in which access to consumer credit remains tight," Target's (NYSE:TGT) Chief Executive Officer and Chairman Gregg Steinhafel told analysts in late August. Furthermore, in order to accelerate, the United States economy needs stronger growth in all sectors, not only the interest rate-sensitive sectors.
The recovery in consumer spending has been uneven, favoring certain strata of the United States population while leaving others struggling. In similar fashion, the recovery in the United States housing market has not reached all regions of the country. Double-digit price increases characterize the housing markets of sought-after locations in New York and San Francisco, but shrinking towns and stagnant neighborhoods are by no means unusual elsewhere. Over the past few years, foreclosures, job losses, and decreased incomes have pushed more and more one-time homeowners to become renters.
In fact, the US home-ownership rate has fallen to an 18-year-low of approximately 65 percent — a decrease from a high of 70 percent before the housing bubble burst. Economists say it could even fall as low as 60 percent. "With the housing bubble bursting, the home-ownership rate was always going to drop. In some respects this has been healthy as the country has been reversing some of the excess. Not everybody should have been homeowners," Barclays economist Michael Gapen told the Financial Times. "But there is now an open question about where it will settle."
Follow Meghan on Twitter @MFoley_WSCS
Don't Miss: Survey: States With High Rates of Uninsured Aren't Obamacare Fans.