Does This EIA Report Hold Bad News For Oil Prices?
While U.S. oil imports fell last week, an increase in refinery outputs pushed crude stockpiles well above the upper limit of the average range for this time of year. The U.S. Energy Information Administration released its weekly petroleum status report Wednesday morning that showed inventories jumped by 2.7 million barrels in the week ended March 29, bringing the total store to 388.6 million barrels.
In the United States — where the struggling economy has somewhat limited the demand for fuel — the evidence of swelling stockpiles shown in the EIA's data pushed Brent — the European benchmark for crude oil prices — down to $109.29 just after the report was released. West Texas Intermediate crude also fell, dropping down 89 cents to $96.30. "At the moment, the market is mostly focused on the potential of the surplus of crude oil in the U.S. starting to once again increase," Energy Management Institute's Dominick Chirichella told Reuters.
Refineries operated at 86.3 percent of their capacity last week, pushing gasoline production up to 8.9 million barrels per day and distillate fuel production to 4.3 million barrels per day. Refineries were able to increase production as routine maintenance and the switch to summer-grade fuel have nearly been completed. Over the past week, daily inputs amounted to 15 million barrels per day, a 130,000 barrel-per-day increase from the previous week, which also contributed to the higher outputs.
While U.S. refineries boosted production, U.S. crude oil imports averaged just 7.9 million barrels per day last week, a decrease of 227,000 barrels per day from the previous week. Comparatively, over the past four weeks, crude oil imports have averaged approximately 7.7 million barrels per day, a figure about 1.3 million barrels per day lower than the same four-week period last year…
Crude oil supply is also growing in Europe, and that growing stockpile is reflected in a shrinking spread between May and June Brent futures. As of Wednesday's trade, the gap between the two contracts had narrowed to a nine-month low of just 8 cents. Due to numerous recent weak economic reports, oil prices will likely face further headwinds. As Reuters noted, Britain's manufacturing activity shrank for a second consecutive month while U.S. factory activity expanded at its slowest rate in threes months during March. Both these economic readings indicate a "murky outlook for oil demand" in Europe and the United States, according to the publication.
Now, with the increase in U.S. crude inventories, "we could see prices for WTI come under pressure over the trading day, given the expected uptick in crude inventories following the (pipeline) shutdown," said JBC Energy analyst to Reuters, referring to a rupture in an Exxon Mobil-owned (NYSE:XOM) pipeline. The shutdown, which was set in place while the company replaces the damaged portion, could potentially contribute about 300,000 to 400,000 barrels per week to crude inventories lingering in Cushing, Oklahoma — the nation's oil transportation hub.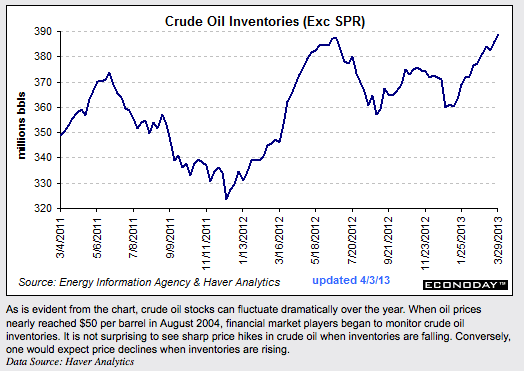 Investing Insights: Does Peabody Have Potential?