Does This J.C. Penney Upgrade Spell Real Holiday Cheer?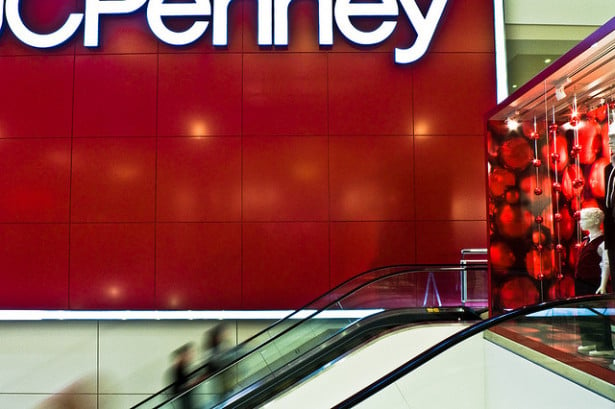 When a retailer is struggling on the level of J.C. Penney (NYSE:JCP), investors take whatever positive signs they can get. That principle seemed to be in play when Reuters reported that ITG Investment Research delivered a positive outlook on the company's sales prospects. By the close of the week's trading, investors pushed J.C. Penney stock up 9 percent on Friday in spite of reasons to be skeptical about the retailer's potential this holiday season.
ITG analysts didn't exactly crown J.C. Penney king of retail. According to Reuters, ITG's John Tomlinson in effect wrote J.C. Penney's performance would be slightly less negative than previously predicted, calling for sales down 4 percent rather than 6 percent from a prior estimation. Nonetheless, it took nothing more to send the retailer's shares climbing swiftly before Friday's trading was complete.
A look at the activity of J.C. Penney's competitors suggests the season is not going to be entirely jolly on the retail front. Wal-Mart (NYSE:WMT) is cranking out Black Friday sales well in advance of the actual day, while Macy's (NYSE:M) is not giving Thanksgiving Day customers much time to digest their turkey. The New York-based retailer is opening Thursday night at 8 p.m. to jump start and expand its Black Friday madness.
Thanksgiving falls so late in November this year that retailers have been bracing themselves for an abbreviated Christmas shopping season. Hence the strategies by Wal-Mart and Macy's, which J.C. Penney will join in opening its stores on Thanksgiving night.
The additional four to five hours may not be enough to help J.C. Penney pull through in the face of competition from its bigger, better-off rivals, though. In fact, the Los Angeles Times reported that Wal-Mart has hundreds of traditionally Black Friday price points hitting the market several weeks before the book on Thanksgiving is closed.
To show customers the company is listening to their concerns following a tin-eared fall from grace, J.C. Penney is bringing back the snow globe promotion of Christmases past, according to the Los Angeles Times. The improving sales forecasts and that vintage holiday touch may be good signs for investors, but formidable opponents from Wal-Mart to Macy's could still overwhelm J.C. Penney without a little Christmas magic intervening.
Don't Miss: The 5 Things Holiday Shoppers Plan to Spend the Most On.