Does This Q3 GDP Jump Mean the Economy Is Back to Normal?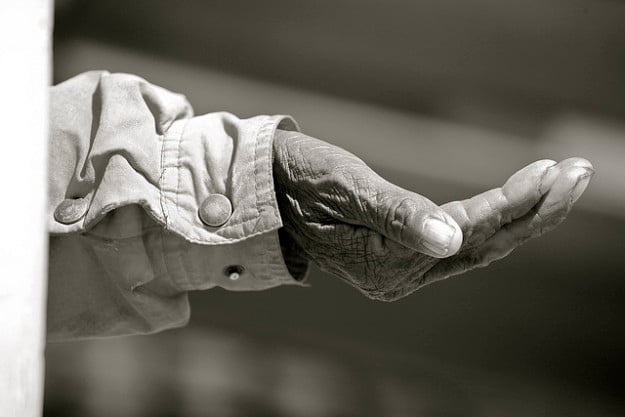 On Wednesday, the United States Department of Commerce's Bureau of Economic Analysis announced that third quarter gross domestic product — the broadest measure of goods and services produced in the United States — grew at an annual rate of 3.6 percent. Compared with the first quarter's 1.1 percent annualized growth rate, the economy has gained some momentum in the past six months, with a 2.5 percent pace recorded in the second-quarter and a larger-than-expected increase in third-quarter economic activity. The increase surpassed analysts' expectations for a 3.1 percent growth rate, and, beat the advanced estimate of 2.8 percent. More importantly, third quarter GDP would have been considered decent growth even before the 2008 financial crisis readjusted what is considered normal growth.
This revision of last month's advanced estimate of third-quarter GDP primarily reflected acceleration in private inventory investment and in state and local government spending and a deceleration in imports. Those improvements were partially offset by a decelerations in exports, in personal consumption expenditures, and in nonresidential fixed investment — meaning business investment.
Ahead of November's GDP reading, economists had expected the economy to grow at a 2 percent pace in the July through September period. But even the stronger 2.8 growth rate reading masked underlying weakness in consumer and business spending, an indication that the economic recovery was still struggling. That data suggested that the economic growth is remaining at the same weak pace that has characterized the five-year long recovery, despite expectations for an acceleration in the second half of the year. However, that acceleration now seems more likely, at least from a cursory glance at the data.
But there is a problem: the increase in private inventory investment, which added 1.68 percentage points to the third-quarter increase. Inventory investments tends to fluctuate from quarter to quarter if business accumulate stockpile unsold goods. Since businesses spent more on inventory in the past quarter while domestic demand — meaning consumer spending —  slowed, companies will likely produce less in the current quarter to compensate. That will weigh on growth in gross domestic product in the fourth quarter.
Plus, exports, personal consumption, business investment, and the sales engines that draw down inventories all decelerated in the last quarter. "The big top line number probably will be looked at very carefully and probably not create as big a market reaction as one would expect from the size of the adjustment," D.A. Davidson & Company chief market strategist Fred Dickson told Reuters. "On the surface it looks good, underneath, not quite so good." Consumer spending grew just 1.4 percent, a lower rate than reported in the advanced estimate of third-quarter GDP. The earlier reading showed consumer spending increased 1.5 percent, matching the slowest pace of growth in more than 3 and a half years.
Americans may be buying long-lasting — and much-needed — items like cars, but they are spending less on services and keeping purchases to more-immediate necessities. For economists, the slow growth of consumer spending is of particular concern. Consumer spending accounts for approximately 70 percent of gross domestic product, and because government and business spending have remained weak, the economy is depending even more on household spending to fuel growth. While the drop in consumer spending is notable, the primary reason for the upward revision was the increase in business inventory, meaning the increase in GDP was not that encouraging.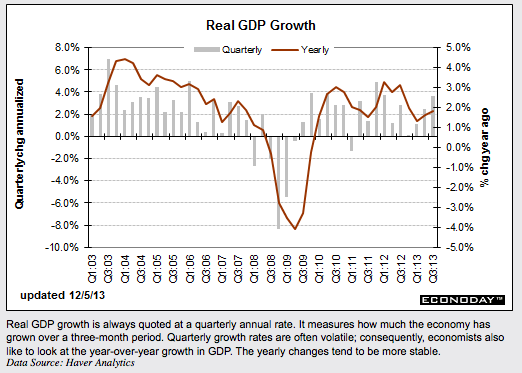 The anemic increase in gross domestic income was another cause for concern. According to the Commerce Department definition, real gross domestic income measures economic activity the output of the economy as "the sum of all incomes generated by production." In theory, GDI should roughly equal GDP, but often they diverge. In the third-quarter, GDI rose just 1.4 percent, a decrease from the second quarter's 3.2 percent jump.
The main difference between the two gauges is that GDI includes corporate profits, and for that reason the Federal Reserve believes GDI is a better indicator of an impending economic downturn. The good news is that economist Jim O'Sullivan believes that the overall trend in GDI is actually stronger than the trend in GDP, despite the dip. "Real GDI is up 3.0 [percent] over the past four quarters combined, versus just a 1.7 [percent] increase in real GDP. The pattern adds to our suspicion that some of the recent divergence between solid employment growth and weaker GDP will eventually be closed with upward revisions to GDP," he told Forbes.
 Follow Meghan on Twitter @MFoley_WSCS
Don't Miss: ADP: Labor Market Undeterred By Government Shutdown.